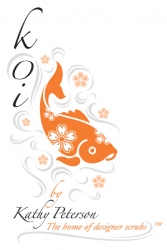 Santa Monica, CA, September 27, 2009 --(
PR.com
)-- koi Design, LLC ("Koi"), a small women-run business in the multi-billion dollar market for medical uniforms, filed suit today against retail giant Mark's Work Wearhouse. The suit (Koi Design LLC v. Mark's Work Wearhouse, United States District Court Case No. 09-06757 CBM) brought in federal court by the Santa Monica, California-based koi alleges that the retailer, with 330 stores in Canada and substantial sales in the United States, sold "knock-off" versions of its popular "Monica Grateful" and "Kathryn Rosa" nursing scrubs.
koi, which describes itself as the "Home of Designer Scrubs," is a small, women-run company founded by Kathy Peterson, former Director of Design at Barco and designer for such labels as Guess and Carole Little. "We spend a lot of time and energy creating designs you simply cannot find anywhere else and to have someone sell copies of them is unacceptable to us, our customers and to our retailers," said Peterson.
Mark's, a subsidiary of the $10 billion Canadian Tire Corporation, which makes it a point to tout a commitment to ethical business practices on its website, is alleged to have continued the sale of the knock-off garments even after being informed that it was selling blatant copies of koi's popular designs.
According to the complaint, a portion of the sales proceeds generated by Mark's versions of the garments were allegedly donated to the Ronald McDonald House, the well-known charity which helps children with cancer and other life-threatening diseases. However, koi's counsel, A. Douglas Mastroianni, denied that the international charitable organization would face any liability in the suit: "Absolutely not. While it might be theoretically possible to make them a defendant since they may be a recipient of alleged ill-gotten gains, koi supports the Ronald McDonald House and—assuming Mark's actually made the charitable contributions—is happy some good may have came of this affair. We will probably have to subpoena them and take a deposition of someone at the charity regarding how much Mark's allegedly paid them since this will help prove the amount of Mark's sales proceeds from the alleged copied designs—but the Ronald McDonald House won't be a defendant in this suit."
koi, known for its fashion-oriented designer scrubs, is located in Santa Monica, California. Since first appearing in stores, the company's contemporary designs have garnered a loyal and growing following among medical professionals.
About koi
koi, a woman-run company, specializes in fashion-forward scrubs designed by women for women. koi's products are available through authorized koi retailers in the United States, Canada and an increasing number of countries around the globe.
###