Gossimer Offers Unlimited E-mails for $1
Gossimer, the fastest growing domain name and webhosting company, has announced a no-upgrade "The Ultimate Email Plan" that will give the buyer an access to unlimited email accounts for just $1/month.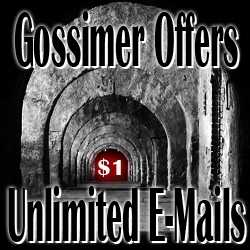 Browns Mills, NJ, September 28, 2009 --(
PR.com
)-- Gossimer, the fastest growing web hosting and domain name registration company, has recently unveiled its
The Ultimate Email Plan
. The company has positioned this product as the ultimate e-mail solution that will fulfill the varied demands of different individuals as well as businesses of all sizes (from small proprietary businesses to mid-size organizations to large corporations).
For $1 per month, The Ultimate Email Plan offers unlimited e-mail accounts, total DNS control, virus protection, spam protection, online address book, folder management, mailing lists, vacation auto-responders, email forwards, aliases, unlimited POP3 & IMAP access, SMTP access, email server flooding protection, mail bomb protection, web-based email access, easy-to-use control panel, and many other important features required to operate the email accounts safely.
By placing the Ultimate Email Plan at a price point of $1 per month, Gossimer has taken a strong step towards making a dent in the forte of web-based e-mail providers. The product is well-positioned to target users and organizations who in the absence of cost-effective professional mail IDs use email IDs given by free web-based email providers to conduct businesses.
"A 'cooldude@znail.com,' or a 'sexykitten@wahu.com' may look cool when we communicate with our friends, but when it comes to business or getting a job then this kind of mail IDs backfires, big-time. The Ultimate Email Plan will give the 'cooldude' and the 'sexykitten' a 'hisname@hisname.com' or 'hername@hername.com' mail ID. This professional looking mail ID will increase his or her chance of getting the business or the job he or she is applying for," said Marvin Dreyer, Head, Gossimer Team.
He further explained this decision by adding, "We have positioned the Ultimate Email Plan as 'no-upgrade' e-mail solution. The price point of $1 per month will help us in penetrating the professional email-user segment."
From now onward, getting a professional email ID for every individual in your organization is going to be easy and cost-effective. The Ultimate Email Plan is also offered free with Gossimer's the
Ultimate Hosting Plan
. Gossimer has removed any artificial disk space, bandwidth, FTP users, and database space caps from its hosting plan. This Ultimate Hosting Plan is one of the highly extensible web hosting plans around.
###
Contact
Gossimer, LLC
Marvin Dreyer
888-902-4678
www.Gossimer.com

Contact