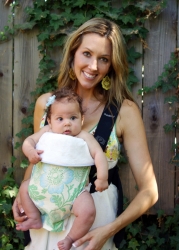 Pleasanton, CA, September 28, 2009 --(
PR.com
)-- New Peanut Shell Front Carrier Covers offer Baby Sling Style to Front Carriers.
The Peanut Shell®, designer and manufacturer of industry leading parenting essentials including baby slings, nursing covers, swaddle blankets and front carrier covers, releases its newest product today, the Peanut Shell® front carrier cover; a new way to add a bit of fashion to your front carrier.
The Peanut Shell front carrier covers are a brand new accessory to hit the baby carrier space. This CPSIA compliant baby carrier front cover will slip over all major brand front carriers including Baby Bjorn® and Infantino® brand carriers to give them a fashionable look. These fabric patterns include designs from well-known designers Joel Dewberry and Amy Butler, making them a must-have for any fashionable mom.
This minky lined Peanut Shell® front carrier cover is truly unique. Not only is the product revolutionary in that it can be used as a slip cover, to make your front carrier easy to keep clean, but it's the first baby gear product of its type that is made with an original scalloped minky lining that makes the inside of your front carrier super soft for baby's delicate skin.
Features of the Front Carrier Cover by the Peanut Shell® include:
1. Fully lined with 100% super soft minky fabric
2. CPSIA compliant cotton shell in designer patterns
3. All materials in contact with your baby are free of lead, PVC, phthalates, and other yucky harmful chemicals
4. Allows you to securely wear your baby and bond in style
6. Makes any gift giver the envy of any baby shower when they give a Peanut Shell® front carrier cover
7. Customizing your carrier couture to your outfit
The Peanut Shell® front carrier cover collection will start shipping September 28, 2009 and boasts a pattern suitable for any taste or style. You will find thoughtful designer details on the front carrier covers including rounded edges, longer length to accommodate all brands of carriers, and accent piping.
The Peanut Shell® front carrier covers retail for $24.99 and can be purchased at www.thepeanutshell.com
The Peanut Shell® is an innovative parenting essentials design company. Their mission is to thoughtfully create practical parenting gear fused with a fashion-forward style that reflects the attitudes of today's on-the-go parents. Their product lineup includes, baby slings, nursing covers, swaddle blankets, diaper clutches and more. Founder, Alicia Shaffer has appeared on The Big Idea with Donny Deutch, in the book Rock Star Mama, and her slings have been seen on numerous celebrity moms
www.thepeanutshell.com
###