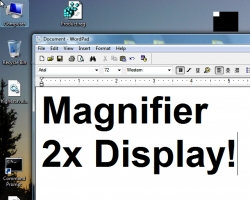 Paso Robles, CA, October 09, 2009 --(
PR.com
)-- Innovation Management Group, Inc. (IMG) announced today that it has begun shipping the latest release of its The Magnifier 1.50. A low cost, full screen magnification software application for Windows. Most magnification software products on the market are designed for individuals who have extreme visual impairments or are legally blind and can cost from a few hundred to several thousand dollars. The Magnifier is the first truly affordable full screen magnifier priced within the reach of the average computer user or multi-user environments such as schools, libraries, and businesses. Its "screen magnification" features and simple hotkey menu's can meet the visual needs of any user. Suggested Retail is only $49.95US.
IMG's The Magnifier is the first Truly Affordable, Full Screen, Incrementally Scaleable Software Magnifier for Windows. No additional hardware or software is necessary. The Magnifier supports Microsoft Windows 2000, XP, Vista, and Windows 7. It is available as a download, on DVD, and on IMG's immensely popular "Insert and Run Anywhere" USB drive technology, which allows users to take The Magnifier anywhere because it runs directly from the USB drive with no installation or setup. The Magnifier is also available in unlimited user Site Licensing to businesses, libraries, and schools.
As a testament to the quality and stability of IMG's software, the older version of The Magnifier needed little change since its release in 1998, and is still sold to support older versions of Windows. In 2007, IMG began preparing for a new major release of the existing software. "Hands down, the most asked for feature was full screen magnification. Users also asked for simple controls, a USB portable version, and to keep it affordable." said Jerry Hussong, VP of Marketing.
"We find that people are buying The Magnifier for themselves, their children, and their parents. Many businesses, schools and libraries have chosen to make the software available on all of their computers so they don't have to dedicate computers to low vision users. The new Full Screen magnification creates a powerful tool to zoom in and easily identify pictures or read text, all accessible thru via Hotkeys or Onscreen Toolbars."
The Magnifier has 400 different magnification levels, full screen / lens / window modes, supports multiple monitors, and is available with a Developer's Kit for integration into systems. Information and demo's are available at
The Magnifier
website.
About Innovation Management Group
Since 1995, IMG has been the professional's choice for Onscreen Keyboards and Pointing Device Enhancement Utilities. IMG's products are available from major Assistive Technology, Automation, Industrial, Kiosk, Medical, Military, Mobile, Ruggedized, Tablet, Touchscreen, Wearable, and Whiteboard systems manufacturers and integrators worldwide.
All trademarked products and technologies are the property of their respective owners.
###