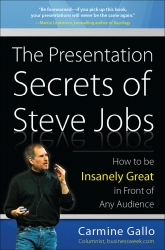 San Francisco, CA, October 15, 2009 --(
PR.com
)-- Steve Jobs' speeches are the stuff of legend in the business world. His keynotes are studied, copied, dissected word for word, and covered in just about every language on the planet. His presentations get almost as much media play as the innovative gadgets he rolls out, and he has consistently kept up the excitement for decades. Jobs electrifies his audiences with incomparable style and showmanship. Now in Carmine Gallo's new book, The Presentation Secrets of Steve Jobs, you can learn the exact techniques that have made Jobs the most captivating communicator on the world stage.
Carmine Gallo, Communications Coach for the World's Most Admired Brands, has put together the definitive presentation guide in
The Presentation Secrets of Steve Jobs: How To Be Insanely Great In Front Of Any Audience
(McGraw-Hill Professional; October, 2009). Now "mere mortals" can deliver "insanely Great" presentations by learning techniques used by the master.
Steve Jobs captivates and engages his audience with the following techniques, all revealed in detail in Gallo's new book:
-He creates stunningly visual slides
-He introduces a hero and a villain
-He has mastered the art of demonstrations
-He informs, educates and entertains
-He rehearses relentlessly
-He sells dreams, not products
Steve Jobs may be a hard act to follow. But once you start using his techniques for your own presentations, you'll be hard to forget. Gallo has mapped out a ready-to-use framework to help you plan, deliver, and refine the best presentation of your life. It's as close as you'll ever get to having the master presenter himself speak directly in your ear. It's the real deal behind Jobs' reality distortion field. According to famed branding expert, Martin Lindstrom, "Be forewarned—once you read The Presentation Secrets of Steve Jobs, your presentations will never be the same."
###