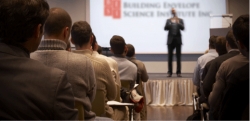 Gainesville, FL, October 20, 2009 --(
PR.com
)-- A leading forensic expert on building envelope, water intrusion, toxic mold, and Chinese drywall, Spiderman S. Mulholland, Senior Forensic investigator and consultant with U S Building Consultants and U S Building Laboratories Inc., has formed a discussion panel of 15 top industry experts to participate in a question and answer session for home and building owners. "I have been to several town hall meetings but many questions seem to remain unanswered or someone is always trying to sell homeowners something. I thought, homeowners need something specifically for them, where they are the focus and all their questions can be answered by a well rounded group of experts," said Mulholland.
A discussion panel comprised of 15 top experts which is "Free to the Pubic" (no registration required) allows homeowners to get their questions answered on defective Chinese drywall, its effects to property values and health concerns. This panel is designed primary for the purpose of updating homeowners on the current events related to defective Chinese drywall. This is not a platform to sell homeowners products or professional services, it is about focusing on the needs of homeowners and answering as many of their questions as possible.
The panelist will have expert advice on the subjects of legal, health, life safety, LEED certification upgrades, analytical/laboratory/chemistry, product materials, environmental, construction and remediation, cost estimating, real estate values, insurance, warranty, decontamination of personal belongings, and state or governmental responses to the crisis. The panel of experts are committing to pulling their resources together to give a complete and comprehensive update and question and answer session to homeowners. Currently the only vacancy on the panel is the state/government official. The panel discussion will take place in the 10,000 SF Intercontinental Ballroom at the Hyatt Regency – Orlando International Airport from 4-6 PM on Sunday October 25th.
U S Building Consultants, Inc. will be assisting in the National Training and Certification Program on Chinese and Defective Drywall in America created by the
Building Envelope Science Institute
(BESI) for Inspectors, Project Managers, Consultants and Remediators at the same location. The certification program's reception will follow the panel discussion from 6-8 PM which allows the attending homeowners to meet and speak with panel board members, professionals, consultants, and contractors who are attending the conference to receive certification for inspection and remediation of Chinese and other defective drywall.
For more information visit www.besinstitute.org. To learn more about Spiderman Mulholland and USBCI, go online to www.usbcinc.com, or to arrange an interview, contact annie@usbcinc.com.
###