Graco Launches New 1 Inch Air-Operated Double Diaphragm Pump Family
Graco's new Husky 1050 diaphragm pump features a stall-free, low pulsation air valve which provides a smooth and rapid changeover. Available in aluminum, polypropylene, conductive polypropylene, PVDF, stainless steel and hastelloy fluid sections.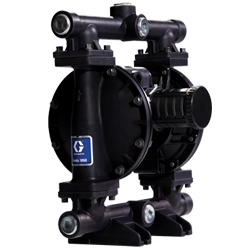 Minneapolis, MN, October 22, 2009 --(
PR.com
)-- Graco introduces a new 1-inch Husky™ 1050 air-operated double diaphragm pump family for process applications. Improved to be 30% more air efficient than the market leaders, these new diaphragm pumps deliver materials up to 50 gpm (189 lpm).
Designed with additional features that optimize performance, the Husky 1050 includes a stall-free modular air valve for low pulsation and a smooth changeover. A square four-bolt manifold joint design provides even sealing pressure and prevents fluid leaks, while a one-piece center section virtually eliminates air leaks. Diaphragms also last up to five times longer for more efficient operation.
The Husky 1050 pumps are available in six materials of construction, including aluminum, polypropylene, conductive polypropylene, PVDF, stainless steel and hastelloy fluid sections to better accommodate a variety of applications and have multiple ports for easier installation. DataTrak™, an optional integrated local monitoring system, provides material tracking, system diagnostics and runaway control. An online selector tool is also available to help choose the correct pump for your applications.
Graco's pumps provide process solutions for low to high viscosity fluids and are built for years of reliable service. For more information about the Husky 1050 family, please visit www.gracohusky.com or call a Graco representative at 877-844-7226.
About Graco Inc.
Graco Inc. supplies technology and expertise for the management of fluids in both industrial and commercial applications. It designs, manufactures and markets systems and equipment to move, measure, control, dispense and spray fluid materials. A recognized leader in its specialties, Minneapolis-based Graco serves customers around the world in the manufacturing, processing, automotive, construction and maintenance industries. For additional information about Graco Inc., please visit us at www.graco.com or contact a Graco representative 877-844-7226.
###
Contact
Graco Inc
Janet Heupel
1-877-844-7226
www.graco.com
gracopr@graco.com
612-623-6504

Contact