Eco-Friendly Land Developer Dennis Gilligan Wins Lifetime Achievement Award from Home Builders Association of Maryland
Dennis Gilligan, a Maryland resident and land developer who believes in Going Green, has worked tirelessly to produce economically and environmentally viable communities throughout the tri-state area of Maryland, Delaware, and Pennsylvania throughout the course of his lifetime. Gilligan has been honored with the 2009 Lifetime Achievement Award from the HBAM association.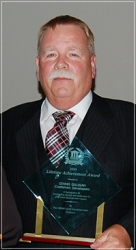 Baltimore, MD, October 28, 2009 --(
PR.com
)-- W. Dennis Gilligan: Biography of Lifetime Achievement Award Winner
After graduating from the University of Maryland with a dual major in economics and urban studies,
W. Dennis Gilligan
worked in a management capacity for Washington Homes and Pulte Homes. In 1983, he founded Gilligan Development Incorporated, then a local developer and home builder.
Over a period of twenty years his company grew to a regional developer and home builder with communities throughout the
Maryland
, Virginia, Pennsylvania, and Delaware. In late 2004, the business was purchased by Technical Olympic USA, a publicly traded home building company based in Hollywood, Florida.
Gilligan assumed a role acting as Technical Olympic's Executive Vice President of Land Development Projects from 2004 to early 2007.
In May of 2007, Gilligan founded Craftsmen Developers, LLC with son
Conor Gilligan
and new partner Bob Schulz.
At the 2009 HBAM Land Development Council Awards, W. Dennis Gilligan was awarded with the Lifetime Achievement Award for his excellence in community development.
About Craftsmen Developers
Craftsmen Developers believes strongly that it can and will improve the environment by creating "
Green Neighborhoods
."
Craftsmen Developers, LLC missions in land development are fundamentally to acquire, develop and sell residential and commercial real estate properties with the benefit of the overall community in mind.
In addition to working on their own projects, the Craftsmen Developers team also provides independent consulting services to third party clients. Each day, the company focuses on keeping a commitment to adhere to the following principles and ethics:
Green Development – creating eco-friendly land development
Experience and maturity – offering sage wisdom to clients and acting responsibly on behalf of the entire community (neighborhood and professional)
Maintaining existing and building new partnering relationships with like-mined clientele
Insuring the highest level of confidentiality and professionalism with integrity
Craftsmen Developers is a green land development firm that believes "Going Green" begins with a green attitude…. simple things, like recycling paper or more complex matters like reshaping communities to minimize runoff and maximize green space.
Craftsmen Developers fosters a "Going Green" culture throughout the company in such a way that management teams help to elevate employee and contractor sensitivity towards the environment.
The effects of training builders and contractors to routinely utilize new green technology whenever and wherever has a profound effect, both on workers and for the overall health of the community in which they work.
With the ultimate design goal of creating "Sustainable Communities" in mind, the company's land development projects attempt to maximize the use of porous surfaces and limit disturbed areas. As such, their unique professional team works for the betterment of the overall atmosphere, a lifestyle plus for modern humans that keeps local wildlife protected and plant species flourishing.
History of HBAM Land Development Council
The Home Builders Association of Maryland, HBAM, is a membership organization comprised of home builders, residential and commercial land developers, and private real estate consultants. Each year, the organization gives outstanding community members Land Development Council Awards based on excellence in community service.
There are five different types of awards given in the Award of Excellence program:
Project Awards of Excellence
Developer of the Year
Consultant of the Year
Contractor of the Year
Lifetime Achievement Award
Maryland professionals in the Land Development industry who receive awards are those whose companies offer the highest level of service both to clients and community. Any category of award is a great honor for each individual or corporation recipient.
W. Dennis Gilligan, owner of Craftsmen Developers, LLC was awarded with the Lifetime Achievement Award for his excellence in community development by the Home Builder Association of Maryland at the 2009 HBAM Land Development Council Awards.
Greatly honored by winning the award, Gilligan says he hopes this distinguished mark of achievement is, "only for the first half of his life"; Gilligan says he is honored and hopes yet another lifetime achievement award will be won by both he and his consulting based support team for the second half of his life (before the middle of the 21st century comes).
Goals of the Land Development Council Awards
The Land Development Council Award of Excellence program offers recognition to development professionals who provide superior and creative development projects that are sensitive to the community and make appropriate use of the existing natural elements.
The LDC awards program serves three purposes: (1) To promote positive public interest in (perception of) the land development industry, (2) To recognize excellence in land development for design and quality; and, (3) To recognize outstanding contributions by companies and individuals to the land development industry.
Projects are available to all HBAM member firms in the State of Maryland, and Adams and York Counties, Pennsylvania.
Contact
For more information about Craftsmen Developers, LLC projects or other Lifetime Achievement Awards winners, contact the following organizations directly:
Craftsmen Developers, LLC
7524 WB&A Road, Suite 101 Glen Burnie, Maryland 21061
phone (410) 766-6565
www.craftsmendevelopers.com
Home Builders Association of Maryland
7127 Ambassador Road, Suite 150, Baltimore, MD 21244
phone (410) 265-7400 or (410) 265-6529
www.homebuilders.org
###
Contact
Craftsmen Developers, LLC
Kae Davis
410-766-6565
www.craftsmendevelopers.com
Conor Gilligan -- Vice President of Craftsmen Developers

Contact