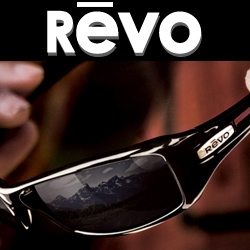 Los Angeles, CA, November 01, 2009 --(
PR.com
)-- The new 2009-2010
Revo Sunglasses
collection is now available at Eyegoodies.com. For those of you who are not familiar with Revo, they manufacture some of the highest optical quality lenses on the market. Founded in 1985, out of the idea that NASA technology was just as suited for sunglasses as it was for space shuttles. All of Revo's lenses are polarized, come with back anti-reflective coating, and are offered in Serilium Polycarbonate or 1.8mm thin Glass. Revo polarized sunglasses utilize Revo Polarcast Technology which is responsible for creating some of the clearest most advanced sunglasses in the world.
The lenses in the Revo sunglasses collection are nothing short of technological marvels, and all feature: Revo Polarcast technology, a polarizing filter that blocks glare that's being reflected off flat surfaces like water, snow, and the road; Element Shed an exclusive lens coating that ensures virtually anything will roll right off the surface of your lenses; And lastly the lenses feature a back anti-reflective coating, eliminating the light that is reflected off the inside of the lens.
Revo sunglasses not only provide unmatched lens quality, but also frame materials and design meticulously constructed for both performance and style. A perfect example is the Revo Nylon Collection: which has frames that are molded from a light weight and durable Nylon material, which is both flexible and maintains its shape well. The frames all wrap around and are crafted to sit on ideal locations on your nose and ears, creating a fit that is free from unwanted pressure points. The Models in the Nylon collection include the Revo Red Point RE 4039, Revo Belay RE 4038, Revo Highside RE 4040, Revo Thrive RE 4037, and the Revo Abyss RE 4041.
Revo sunglasses feature polarized technology and frame designs which are simply unmatched, so be sure to check out the new 2010 line available now at Eyegoodies.com
Shop
Revo Sunglasses
Read more in their Blog about
Revo Sunglasses
###