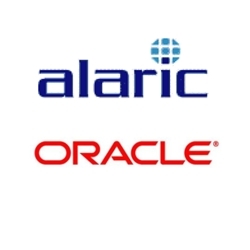 London, United Kingdom, November 03, 2009 --(
PR.com
)-- Combination of pre-packaged Oracle Business Applications and Alaric's Authentic and Fractals to address Progressive Payments Modernization in Retail Banking
Solution to be Previewed at 2009 BAI Retail Delivery, Boston
Alaric International headquartered in London, UK today announced it is teaming with Oracle to combine its state-of-the-art financial solutions to create a new comprehensive offering for the consumer payments market. The product package—the Consumer Payments Services Hub—will enable retail banks and service providers to progressively modernize aging ATM and POS legacy systems while delivering increased profitability, reducing operational costs and expanding existing customer relationships.
Alaric's Authentic system offers the multi-channel payment switching and authentication capability in the Consumer Payments Services Hub solution that enables banks and service providers to transition from their incumbent aging/legacy ATM and POS systems while Alaric's Fractals solution provides comprehensive, multi-instrument fraud detection and prevention capability. The other solution components include Oracle® Business Activity Monitoring, Oracle's Demantra, Oracle Business Intelligence Enterprise Edition Plus (OBIEE) and Oracle Adaptive Access Manager from the Oracle Fusion Middleware suite, as well as high availability and disaster tolerant solutions recently acquired from Golden Gate Software. The new Consumer Payments Services Hub builds on Authentic's core strengths of security, scalability and configurability to deliver new functionality, including the following:
· Comprehensive real time analytics;
· Real time status of the entire network on configurable dashboards;
· Cash supply optimisation and analytics for maximizing Net Interest Margin;
· Integrated fraud detection and monitoring capability.
The Consumer Payments Services Hub helps deliver functionality beyond what is available in existing payments infrastructures and also addresses essential security requirements including conformance with PA DSS and providing continuous availability and disaster recovery, not only in production, but also during the important transition from the original legacy environment.
"Many banks and service providers today do not have a business case for like-for-like swapping of systems in the critical business function of servicing customers. The Consumer Payments Services Hub offering is expected to deliver great and immediate value to the payments business function. The combination of Alaric's Authentic and Fractals with Oracle's technology and application components for cash optimisation at ATMs and branches, real time analytics of payment network and comprehensive control and reporting, allows Alaric to deliver sophisticated payment solutions specifically tailored to a bank's needs," said Andrea Klein, Vice President, Oracle Financial Services Global Business Unit. "This solution offering demonstrates a real change in thinking to address the diversity and choices that are emerging for consumer payments and delivery channels in the market place."
"Alaric has been working extensively with Oracle's product suite for many years and is excited to be an integral part of the Consumer Payments Services Hub. This approach will enable banks and service providers to safely transition from their existing legacy environments to a modern solution stack which combines breadth of functionality with security, scalability and configurability," said Mike Alford, CEO of Alaric.
Alaric is a member of the Oracle PartnerNetwork, and is working with Oracle to deliver the highly configurable Consumer Payments Services Hub to the financial community through a network of strategic systems integrators complementing the existing Alaric delivery and support network.
The Consumer Payments Services Hub will be previewed at the Oracle Financial Services Booth (947) at the BAI Retail Delivery Show in Boston from November 3rd-5th.
Press Contact - Steve Lomax, Alaric Systems Ltd. Tel: +44 20 7593 2200
www.alaric.com
About the Oracle PartnerNetwork
Oracle PartnerNetwork is a global business network of more than 22,000 companies that deliver innovative software solutions based on Oracle software. Through access to Oracle's premier products, education, technical services, marketing and sales support, Oracle PartnerNetwork Specialized provides partners with the resources they need to be successful in today's global economy. Oracle partners are able to offer their customers leading-edge solutions backed by Oracle's position as the world's largest business software company. Partners who are able to demonstrate superior product knowledge, technical expertise and a commitment to doing business with Oracle can apply to qualify for Specializations. http://www.oracle.com/partners/index.html
About Alaric: Headquartered in the UK, Alaric provides financial institutions with high performance payments authorisation and switching, payments integration and fraud detection solutions. Alaric's products, representing the next generation of payments systems, are open, reliable, scalable and highly configurable without sacrificing performance. They are designed to empower customers and remove the 'platform lock-in' so prevalent with the legacy systems banks are now looking to replace. Alaric's products are written in Java and, as a result, can be deployed on a wide range of hardware platforms and operating systems.
Oracle is a registered trademark of Oracle Corporation and/or its affiliates.
###