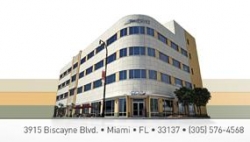 Miami, FL, November 05, 2009 --(
PR.com
)-- Real Estate Breaking News……..
All eyes should continue on Biscayne Boulevard as a new, state-of-the-art Office and Retail center is underway.
Bay Point Center, located at 3915 Biscayne Boulevard, features a completely renovated four-story commercial building in the heart of Miami within walking distance of the Design District. The building's design merges the charm of 'Miami Art Deco' with the clean elegance of modern, contemporary interiors.
Bay Point Center will feature restaurants and retail on the ground floor and offices on the upper floors. Leased space is from 900 square feet up to 43,970 square feet.
At the cutting edge of leasing is Design District's Chariff Realty who recently acquired the listing in Fall, 2009. "Lyle Chariff is a renowned broker in the area," says Fransisco Silva with G&L Real Estate Development, Bay Point Center co-developer. "We are confident that due to his expertise in the Design District and Biscayne Boulevard, he will perform the job and lease the property to quality businesses."
While many developers are in a "holding" real estate pattern, G&L Real Estate Development is not. They are moving full speed ahead with the design and renovation. Original development plans were submitted to the City of Miami in March, 09, later facilitating building permits in November. Together with co-developer Lauris Boulanger, an established South Florida Builder and Developer, they are confident that due to its proximity to the Design District, downtown, and major expressways, Bay Point Center will offer quality space at a more reasonable price than the Brickell area.
Bay Point Center will keep its original pedestrian-friendly concept that provides storefront exposure and extra wide sidewalks promoting foot traffic and sidewalk café seating. In addition, the building, which has been an eyesore in the neighborhood for years, will bring new life, evolution and increased value. It is fully welcome by the surrounding community.
Previously, a project called "Tivoli" designated to that location never broke ground. It was to be a 93-luxury-unit multi-family residential development. The site was ultimately acquired by G&L as a foreclosure and took five months of negotiations. The existing building was built in the 1940s and Bay Point Center will preserve much of its architectural style combining it with the standards of a brand new 'Class A' building. The architect is Roberto A. Beauchamp, AIA. Estimated costs for the renovations are approximately $8,000,000.
G&L Real Estate Development, LLC, a US subsidiary of Empresas Guzman & Larrain, has built and sold over 40,000 residential units and over 200,000 square feet of office space. Their operations are widely diversified with multi projects located in 13 cities across five countries including Chile, Argentina, Italy, Spain and the United States.
The story of Lauris Boulanger is a family-run company that has been developing high quality construction projects in South Florida for over 20 years. They have an established reputation known for the highest level of craftsmanship, quality and service.
Some of the project's major characteristics include full renovation, new high impact glass windows, brand new electrical, plumbing, elevators, sprinklers and fire protection systems. It will also be equipped with individual A/C units and a back-up building generator.
Bay Point Center will be ready in the Fall of 2010.
For more information contact: Lyle@chariff.com
www.baypointcenter.com
###