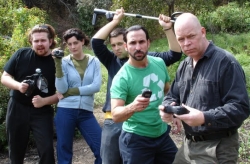 Los Angeles, CA, November 06, 2009 --(
PR.com
)-- PIT – The Paranormal Investigative Team debuts its 3rd spellbinding episode of the season on TV-on-the-Internet giant, The All Reality Network
Who: PIT - Los Angeles' top TV-on-the-web paranormal experts.
What: PIT – The Paranormal Investigative Team's exciting third episode, "Ghostus Interruptus."
When: Friday, November 6, 9:00 PM, PST, and running continually, as long as there is electricity.
Where: On The All Reality Network's interactive website,
www.paranormalinvestigativeteam.com
FYI: Despite some tragic team losses and the near complete paranormal erasure of several previous investigations, PIT is back again to take on otherworldly beings on The All Reality Network.
Info: 323-850-8777 PIT Hotline
On November 6th at exactly 9:00 Pacific Standard Time (barring ghostly interference), The All Reality Network will unveil the outrageous third episode of PIT - The Paranormal Investigative Team.
For those new to the intoxicating world of TV-on-the-internet-that still-insists-on-calling-itself-TV, PIT follows the outrageous and oftentimes dangerous adventures of Los Angeles' top TV paranormal investigative team as they travel California in search of the bizarre and unexplained.
"And we're not talking about those people you see on "Dancing With The Stars" or "Americans Really Can Clap," explains PIT's Founder and Lead Investigator, Art Mack. "We investigate ghosts, unearthly creatures and other unexplainable entities from both the dead and should-be dead world. And California has plenty, believe you me."
PIT's intense leader is joined by intriguing Co-Founder "The" Deuce Moran, comely Research Specialist Pam Duberry, brilliant Audio/Video Technology Specialist Lear Levin and screw-up Investigator-In-Training Clark Dunwoody. All five agree that this season should finally produce some stellar results.
"Sure," offers Mack, "We've always been out there investigating, but ghosts have continually screwed with us. What's great about this season is that it's the first time that those evil spirits haven't been able to erase most of the stuff we caught on tape. And, even better, we haven't, so far anyway, lost any team members."
"Well, we did lose that one guy" notes PIT Co-Founder "The" Deuce Moran. "But it turned out he was just down the street at a Starbucks. So he's no longer on the team."
"The All Reality Network is truly excited to bring this new episode of PIT into America's homes and also to those sections of China that allow high-speed unmonitored internet," effuses the network's President and sole-owner, Mr. Hack Simmons. "And on this week's show, we not only have the ghosts and intrigue, but there's going to be some sexy stuff as well. The young people like that kind of thing."
###
PIT – The Paranormal Investigative Team is the hilarious creation of Los Angeles writer/actor/director Thomas Mills. The parody goes deep behind the scenes at a fictitious, L.A-based TV ghost-hunting show. PIT searches out ghosts, bizarre creatures and higher ratings for their struggling TV-on-the-internet-network, all the while trying to deal with behind-the-scenes issues, real-life nuisances, and the ongoing personality crises of the team members.
Poking fun at the recent explosion of paranormal-themed TV programs was something Mills was compelled to do.
"Ghost hunter shows seem to be on every channel now. I mean is there any place in America that isn't haunted?"
And ghosts, creatures and the paranormally unexplained - as they're presented on TV - have always interested the show's creator.
"I love the sincerity and commitment that most of these paranormal investigative shows have. So, naturally, I wanted to pay tribute to that, but in an outrageous kind of way. Our show certainly has plenty of dark corners and spooky investigations, but what excites me the most is what happens to our ghost hunting team when the cameras stop rolling on the PIT show. It's those behind the scenes conflicts – petty arguments, misunderstandings, love affairs, and rolling up tangled wires that appeal to me the most. The ghost chasing will provide the thrills but the team's ghost-of-a-chance in becoming a fully-functional unit is what provides the most fun for me."
This week's episode - "Ghostus Interruptus" - continues PIT's bizarre investigation at the Meridian Mental Asylum where 27 patients recently lost their lives on the same night.
"PIT collectively figures out that 27 people croaking on the same night probably wasn't a coincidence," explains Mills. "So they take the case. When they get there they find out that the place has been turned into a B&B. It makes things a bit more challenging."
PIT's talented cast includes actors Sanford Holsapple, Maxx Maulion, Heather Seiffert and Oscar Torre.
PIT – The Paranormal Investigative Team
Friday, November 6th at 9:00 PST
www.paranormalinvestigativeteam.com www.paranormalit.com
press contacts:
PITLosAngeles@gmail.com
Thomas Mills - 323 – 850-8777
Wendy Winston – 310-990-8620