Andy Houck, Stay at Home Franchise Owner, Invited as Guest Speaker at the Alzheimer's Association Training Event for Healthcare Professionals
Andy Houck, Stay at Home franchise owner, invited as guest speaker at the Alzheimer's Association's Eastern Tennessee Chapter's spring training event, "Caring and Coping, Together we make a Difference," sponsored by the East Tennessee Area Agency of Aging on November 12, 2009 at the First Baptist Church of Sevierville.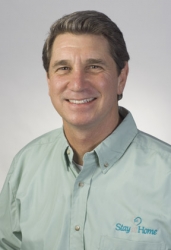 Knoxville, TN, November 12, 2009 --(
PR.com
)-- The training event, "Caring and Coping, Together We Make a Difference," focuses on enhanced "hands on" topics pertaining to caring for an elderly person with dementia. The first training session took place at the First Baptist Church of Oak Ridge where two thirds of the attendees included professional health care providers. The other third consisted of family caregivers and area volunteer agencies that service the elderly.
Houck's portion of the training identifies the physical and emotional stresses related to caring for an elderly family member with dementia. Houck states, "I like to start my presentation with national statistics to help put things into perspective. For example, over 44 million people provide unpaid care to elderly family members or friends. And more than 60% of these family caregivers of seniors also have children at home and work full- or part-time." The physical impacts of long-term stress on family caregivers is real and can cause various maladies including; compromised immune system, ulcers and gastrointestinal disorders, onset of diabetes, fatigue and memory loss, and diminished cognitive skills. "Often times the family caregiver of a disabled elderly person tends to become sicker than the person they are caring for," explains Houck.
The next training session will be held November 12, 2009 at the First Baptist Church of Sevierville. For more information about the training session, please call Bobby Fields, Eastern Tennessee Chapter of Alzheimer's Association at (865)544-6288.
After 30 years in the corporate world, Andy Houck searched for a second career that would give him the opportunity to make a difference in people's lives. He found it with Stay at Home. Stay at Home (www.stayhomeweb.com) is a network of highly structured franchise operations dedicated to providing compassionate, dependable, and affordable in-home care to the elderly and those recovering from illness or injury. With 25 years of experience in the companion care field and operating in four states, Stay at Home is rapidly expanding and looking for "compassionate entrepreneurs." For more information, please contact Lisa Batcheller, VP of Marketing, at (865)692.1101.
###
Contact
Stay at Home
Lisa Batcheller
(865) 692-1101
www.StayHomeweb.com

Contact