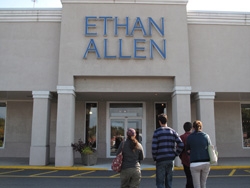 Portsmouth, NH, November 14, 2009 --(
PR.com
)-- Friends Forever, a 501(c)(3) global non-partisan advocacy and awareness organization dedicated to peace, is honored to report that Mr. Farooq Kathwari the Chairman, President and CEO of Ethan Allen hosted a meeting with Israeli teen leaders that participated in the 2009 / 2010 Life Raft program. The first phase of Friends Forever Life Raft program is conducted in the United States, encompassing community service, sessions with U.S. business leaders and interfaith dialogue, as these teens prepare for the year-long, in-country peace program designed to address the challenges that threaten their communities and to work together for sustainable peace.
Hard work and motivation are the main themes in Mr. Kathwari's personal journey and his advice to the teens. Immigrating to the United States from Kashmir at the age of 21, Mr. Kathwari attended New York University at night so he could work full-time, earning his MBA in international marketing. He joined Ethan Allen in 1980 after leading his own lighting and import business following graduate school. By 1988, Mr. Kathwari had become the Company's CEO and then took Ethan Allen public in 1993, establishing it as an icon in American home furnishings and design.
At the Ethan Allen design center in Portsmouth, NH, Mr. Kathwari emphasized the importance of teamwork, dignity and the value of diversity in building Ethan Allen as a sustainable fixture in American interior design. An inspirational visionary that embodies the "American Dream," Mr. Kathwari told the group, "You must provide leadership by example and recognize the contributions of others; you cannot be successful alone. Further, self-confidence and taking pride in your work empowers others to devote that same energy."
A hands-on CEO and a peace activist, he has received as many awards for global relations as for business. "Working with non-profits gives you a balance," noted Kathwari. "If you are only thinking about money, you cannot do well in business." He follows up these statements by supporting a long list of not-for-profit organizations, including Refugees International, Kashmir Study Group, the Council on Foreign Relations, International Rescue Committee (IRC), and the World Conference of Religions for Peace, and more. Further, he has been honored with the "Outstanding American by Choice Award" from the United States Government; the Eleanor Roosevelt Val-Kill Medal; Ernst & Young's Entrepreneur of the Year Award; the National Retail Federation's Gold Medal Award, and was named one of Worth Magazine's "Best CEOs in the United States." Recently, Mr. Kathwari was inducted into The American Furniture Hall of Fame Foundation.
His final words of advice to the youth leaders encouraged them to trust. He emphasized that their project could only succeed through trust for each other and other citizens of Israel, reminding them, "Do not treat 99% of the people badly because 1% is doing something bad."
"Leveraging the experience and wisdom of influential leaders like Mr. Kathwari is a cornerstone in the Life Raft program," noted Stephen Martineau, executive director, Friends Forever. "These teens are emboldened by the opportunity to not only connect with one another, but also by hearing from those that have proven their goals are possible. We are incredibly grateful and humbled that Mr. Kathwari would take time from his busy schedule to speak with our group."
About Friends Forever
Friends Forever is a 501(c)(3) global non-partisan advocacy and awareness organization dedicated to peace, particularly in Ireland and Israel. Friend Forever's members work in their local communities domestically and internationally to raise awareness and help build programming that will support these young Irish and Israeli leaders as they team to address the challenges that face their communities. The organization works closely with local experts, regional leaders and educational institutions to promote healthy communication within disparate fractions and to end violence.
Since 1986, Friends Forever has built hundreds of lasting friendships across the cultural, religious, and political divides of Northern Ireland and Israel. The organization brings together multi-faith teens to live, laugh, learn, and volunteer together in host communities in New Hampshire, Maine, and Massachusetts. These youth leaders, upon completing Friends Forever's unique two-week "Life Raft" experience, return home to perpetuate tolerance in their own communities. For information please visit, www.friendsforeverusa.org
About Ethan Allen
Ethan Allen Interiors Inc. is a leading interior design company and manufacturer and retailer of quality home furnishings. The Company offers free interior design service to its clients and sells a full range of furniture products and decorative accessories through ethanallen.com and a network of approximately 300 Design Centers in the United States and abroad. Ethan Allen owns and operates six manufacturing facilities in the United States, which includes one sawmill, and one manufacturing facility in Mexico, and manufactures approximately sixty-five percent of its products in its United States plants. For more information on Ethan Allen's products and services, visit ethanallen.com.
###