Trackbuzzer.com Launches Site and Twitter Giveaway
New York City based company trackbuzzer.com official launch site and twitter giveaway contest for followers.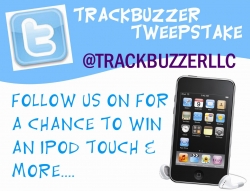 New York, NY, November 19, 2009 --(
PR.com
)-- Track buzzer, A revolutionary digital delivery, marketing and promotions company has announced the official launch of their website trackbuzzer.com, the one stop shop for artists and labels seeking a cost effective way to promote a project. One of the services that will be offered on the site is Email marketing via e- blasts, for clients looking to get their music to industry tastemakers. Founded by some of New York city's influential DJs, DJ Hpnotiq, DJ Finesse, DJ Love Dinero and DJ Onpoint in 2009, trackbuzzer.com has gained instant recognition from artists and labels who are familiar with the track records of these DJs.
The company will also offer consulting for clients who need more complex services such as internet and social network marketing, radio placement and digital retail distribution. Users will be able to upload songs that will be hosted on their accounts, where they can monitor downloads, plays and also user feedback from its growing network of tastemakers and fans who use the site to discover new music."Mixtapes were one of the only ways to create a buzz for artists but now we have the internet and all that track buzzer is, is an extension of the mixtape circuit," said DJ Love Dinero "the whole music industry has evolved."
The site's aim is to make it affordable for artists and labels who need help marketing and promoting their music receive the proper assistance. The group also plans on releasing a mixtape series titled "The A&R Report" which will feature new upcoming talent from a combination of artists who use the service and artists who have been discovered by the group from other outlets. The mixtape will be release once a quarter and will be distributed through the networks of over 10,000+ stores that the group has accumulated over the years. "There's alot of talented people out there, yet the industry was at a stand still for a while because people in power weren't doing their jobs with discovering new acts and that's what 'The A&R report' is set out to do," DJ Onpoint said.
To coincide with the launch of the site, trackbuzzer.com is also running a contest based on the new social networking sensation site twitter.com set to begin on Nov 23. "We received so much love from fans on twitter who support what we are doing we felt this was a good way to show them how much we appreciate them," said DJ Finesse. "And we plan on continuing to use twitter in the future as a promotional tool."
In this 10 day giveaway contest, participants will be giving questions throughout the day via the trackbuzzer twitter page www.trackbuzzer.com/trackbuzzerllc or @trackbuzzer and the participant who answers all the questions first each day will win a prize such as an Ipod touch made by Apple inc, a Home stereo systems by Magnavox or free studio recording time courtesy of hall of fame studios formerly known Jam Master Jay's studio. For more information on the trackbuzzer.com tweepstake visit http;//trackbuzzer.com/contest
"It was fun working on the questions for the contest because we are all fans of the music first," said DJ Hpnotiq. "and it's important as fans to remember how far music has come."
###
Contact
Trackbuzzer llc
Chris Green
516-589-7613
www.trackbuzzer.com
trackbuzzer@gmail.com

Contact