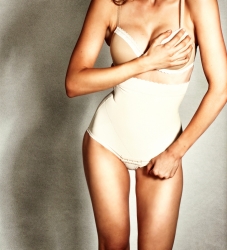 San Francisco, CA, November 19, 2009 --(
PR.com
)-- Flats Belly Wraps™, innovative designers of medical post-pregnancy belly band garments, has rebranded today as Wink – Intimates for Mom; continuing to offer medical grade post-pregnancy abdominal compression garments and adding a line-up of nursing tank tops, pregnancy support belly bands and maternity bras.
Wink – Intimates for Mom adds pregnancy support garments to their line-up and continues to offer the only post-pregnancy compression belly bands to deliver medical grade compression, utilize patented soft and seamless fabric, to quickly help a new mother bounce back into shape. In addition you now can have a full range of maternity support garments.
Wink slimming post-natal compression garments are designed to help shrink post pregnancy bellies and give new moms their body back after having a baby. Using patented fabric technology Wink teamed up with plastic surgeons and OBs to deliver the most effective and comfortable post-natal compression garments available on the market. In fact Wink post-pregnancy belly bands have been rated the Most effective post-pregnancy slimming garment.
Features of the Wink maternity and post-pregnancy line-up include:
1. Delivers a smooth, even compression aiding the abdominal muscles back together after birth
2. Helps to return mom's bodies back to pre-pregnancy shape
3. Instantly reduces the wearer down at least one size,
4. Reduces or eliminates the "pooch" of post-pregnancy stomach muscles due to muscle separation
5. Delivers medical grade compression to the abdomen area as well as hips, buttocks, and legs.
6. Offers new pregnant moms soft and seamless support garments that grow with your body
7. Breastfeed anywhere with their nursing tank top
8. Available in 9 sizes to properly fit each size and shape
9. Wink post-pregnancy slimming belly bands are the Only post-pregnancy compression garments made with a medical grade fabric that offer the most comfortable, seamless and even compression.
Wink pregnancy garments are seamless, supportive and offer pregnant moms intimates that won't pinch, squeeze or irritate their skin. The initial line up of products includes a maternity support bra that grows and accommodates a pregnant body's changes; a pregnancy support belt, seamless soft and supportive; nursing tank top, turns any shirt into nursing apparel, and a maternity boy short which are comfortable and so soft.
Wink post-pregnancy compression belly bands embody an entirely new textile technology better known as F5 science. This scientific breakthrough is recognized by the textile engineering community to be the latest in "cutting edge" textile technology using state-of-the-art fibers, machinery and design.
The Wink – Intimates for Mom collection offers a size and style for every expecting and new mom. You will find nursing tank tops, maternity bras, pregnancy support bands, and three unique belly wrap designs available at MyWinkShop.com all utilizing the same fabric science and technology. Wink post-pregnancy compression garments retail for $24-99 depending on the style chosen and can be purchased at www.MyWinkShop.com
Wink – Intimates for Mom™ is an innovative maternity and post pregnancy compression garment design company. Our mission is to thoughtfully create durable, comfortable, and slimming garments fused with a fashion-forward style that reflects the attitudes of today's mom.
www.MyWinkShop.com
Contact:
Media Department
888.88.FLATS
help@MyWinkShop.com
###