Women's Health and Surgery Center OB/GYN of Stafford, VA Partners with MDS Medical to Launch Re-Designed Website
Stafford, Virginia's Women's Health and Surgery Center, in partnership with electronic medical record software and technology integrator MDS Medical, have teamed up to launch a redesigned practice website. The new website educates visitors on common gynecological conditions, minimally invasive gynecological surgical options, and advancements in laparoscopy.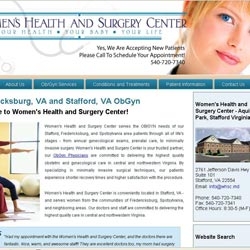 Stafford, VA, November 20, 2009 --(
PR.com
)-- Stafford, Spotsylvania, and
Fredericksburg OBGYN
group, Women's Health and Surgery Center, introduces their newly redesigned website www.obgynvirginia.com. The new website powered by MDS Medical,
OBGYN electronic medical records
integrator, features information and resources on common gynecological conditions and the newest treatment options available.
Dr. Kurian Thott from Women's Health and Surgery Center performed the first total laparoscopic hysterectomy at the new Stafford Hospital Center as well as the first laparoscopic enterocele repair and laparoscopic myomectomy in the region. The website details new laparoscopic treatment options available for conditions that once required traditional open surgeries and prolonged recovery times, such as the minimally invasive hysterectomy.
"Our goal from the beginning was to offer the women of Stafford, Fredericksburg and Spotsylvania counties advanced treatment options, right in their own backyard, without having to travel away from home," says Dr. Kurian Thott, physician at the Women's Health and Surgery Center and Division Chair for OBGYN at Stafford Hospital Center. "The new Stafford Hospital Center has provided women another option for obstetrical and minimally invasive gynecologic surgical care in their own community, and our objective with the newly designed website is to provide our patients with information on the latest treatment options right at their fingertips."
Women's Health and Surgery Center's newly designed website and advanced electronic medical records software system, both from MDS Medical, enables the practice to deliver superior service and safer patient care. "As a medical technology integrator, we work closely with our physician practices to help maximize the benefits from investments in technology," says William Schroeder, CEO of MDS Medical. "With declining insurance reimbursements and more pressure on physicians to deliver safer and more efficient care, we focus on the whole practice – from marketing and patient web portals to revenue cycle management and clinical workflow – in an effort to help physician practices prosper in today's challenging healthcare landscape." MDS Medical will continue to offer its free medical website design and hosting package with any purchase of Greenway PrimeSuite electronic health records system through the end of 2009.
About Women's Health and Surgery Center
Located in Stafford Virginia, Women's Health and Surgery Center serves the obstetrical and gynecological needs of women of Stafford, Fredericksburg, and Spotsylvania counties. Women's Health and Surgery Center's minimally invasive surgical procedures enable patients to experience shorter recovery times and improved satisfaction with common procedures. For more information, visit
www.obgynvirginia.com
or call 540-720-7340.
About MDS Medical
Headquartered in Arizona, and ranked on the 2009 Inc. 5000 list of the fastest-growing private companies in America, MDS Medical is an integrator of electronic medical records software (EMR), practice management (PM) solutions, medical billing services, and
medical website design
. Physician practices nationwide in more than 30 specialties rely on MDS to advance the use of medical office technologies that facilitate efficiency improvements; increased profitability; and the delivery of safer patient care. MDS Medical's proprietary electronic medical record implementation model reduces downtime and lost productivity, accelerating return on investment. For more information, visit
www.mdsmedicalsoftware.com
and www.mdsmedicalwebsites.com or call 1-800-494-3188.
###
Contact
MDS Medical Software
Andrea Schroeder
800-494-3188 Ext. 102
www.mdsmedicalsoftware.com
Women's Health and Surgery Center, Kurian Thott, MD - Stafford, Virginia. 540-720-7340 or www.obgynvirginia.com

Contact
Multimedia
Subscription packages for medical website design and hosting. Through 12/31/2009, website design and subscription costs are Free for physicians that purchase Greenway PrimeSuite from MDS Medical.