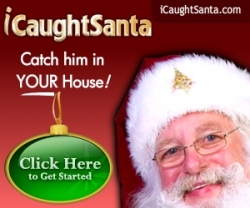 Houston, TX, December 21, 2009 --(
PR.com
)--
iCaughtSanta.com
™ announces dramatic enhancements to the wildly popular website.
"We've always made it easy to upload a photo, add a Santa and share the picture with others, but this year we've added 'Print-to-Store' capability - so parents can have their photos professionally printed and pick them up the same day at more than 7,000 retail locations nationwide," says founder Steven Lockhardt. "We've also added Santa videos to the site this year, making it even easier to prove to youngsters that Kris Kringle was on the scene."
For 'do it yourself' types, iCaughtSanta makes it easy to print photos at home by supplying the pictures in many popular sizes including 4x6, 5x7 and 8x10. Also new this year... one-click photo-sharing via email, Facebook, Twitter and 30 other social networking sites.
The site offers more than 20 Santa poses ranging from the traditional (with milk and cookies) to the outrageous (being kissed by Mommy). Last-minute shoppers can purchase Gift Cards & eGift Certificates for loved ones... making iCaughtSanta a great gift idea even if you don't have kids; perfect for grandparents, God parents, friends, neighbors and nannies. For less than $10, anyone can be a hero to child by catching Santa "in the act."
iCaughtSanta.com utilizes robust Adobe Flash technology to create the custom images. And although the process can be completed in three simple steps, the site does offer advanced settings for achieving the perfect picture. For example, anyone can easily tweak the size, color and brightness of Santa to match their digital picture. Lockhardt says the site was designed with simplicity in mind…"It's so easy, my mother could do it. In fact, my Mother has done it!"
iCaughtSanta.com also announced the mid-December release of a brand-new mobile version of the website for iPhone and iPod Touch users. The App is available now in the Apple App store and iTunes under the name iCaughtSanta. The App is free to try and users can create unlimited photos with a small watermark for free. Single un-watermarked photos are just .99 cents and unlimited un-watermarked images are just $2.99.
Lockhardt advises customers to avoid the long lines at the mall to get a picture with Santa. "If you've got an iPhone, and our App, you have a Santa in your pocket. It couldn't be any easier."
iCaughtSanta is the brainchild of Lockhardt and his wife Heather who created the site after a close-call in their home one Christmas eve, when Santa forgot to eat the cookies left for him by the couple's daughters. That incident was also the inspiration for a popular
television commercial
.
iCaughtSanta.com is operated by CatchACharacter, LLC, a network of websites including iCaughtTheEasterBunny.com, iCaughtTheToothFairy.com and iCaughtCupid.com. All web sites enable users to add a fictional character to a personal photo.
###