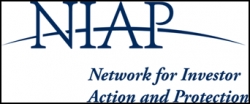 New York, NY, December 09, 2009 --(
PR.com
)-- A group of investment fraud victims has formed the Network for Investor Action and Protection (NIAP), a not-for-profit organization dedicated to helping investors and victims of investment fraud. The Network, a natural outgrowth of the group's meetings, planning, advocacy, and extensive collaboration that began in the weeks following the discovery of the Madoff fraud, will pursue regulatory reform to more effectively police and prevent investment and securities fraud, and will seek better treatment for fraud victims.
NIAP (www.investoraction.org) will initially seek to unite thousands of victims of several recent frauds, serving as an advocate for the rights of victims. It will also line up support for much-needed legislative and regulatory change at market oversight agencies as the Securities and Exchange Commission (SEC), the Financial Institutions Regulatory Authority (FINRA), and the Securities Investor Protection Corporation (SIPC).
"It's extremely unfortunate that existing laws are being interpreted to the detriment of many victims of investment fraud, who are already suffering terribly from Washington's poor oversight," said Ron Stein, NIAP's President and co-founder. "Most investors don't realize how limited the protection of their investment assets is. NIAPs platform will allow us to pursue our goals of improved treatment for fraud victims and the equally important objective of better oversight of the investment community."
"The public doesn't fully grasp the diversity of those whose lives were ruined by these frauds and the incredible hardship that resulted," said Ilene Kent, a member of NIAP's Executive Committee. "A vast number of the victims are every day, hardworking people of all economic backgrounds, a true cross-section of America. Our plight – made worse by decades of government negligence – is being largely ignored."
As a 501c4 tax-exempt organization, NIAP will be able to solicit donations and lobby for legislative changes at both the state and federal levels. NIAP has already begun the process of reaching out to members of Congress to advance its agenda. Indeed, NIAP members played an integral role in making this week's Congressional hearings on the Investor Protection Act amendments happen.
NIAP represents a collaboration between existing Madoff investor groups and individuals and the investor population-at-large, rightly concerned about the protection of their assets and the safety of their brokerage firms.
"We want to bring together victims of investment fraud to speak with one voice on what important changes need to be made so all investors can feel safe under our country's regulatory framework," said Kent, who is also the group's Outreach Coordinator. "We want investors to feel that the SIPC, FINRA, and the SEC are competent and actually represent investor interests."
###
Contact: Michael Wichman, The Hamilton Group
mwichman@thehamiltongroup.net
P: 212-213-3144
C: 917-526-0855
Ilene Kent, Network for Investor Action and Protection
ikent@investoraction.org
P: 212-787-9826
C: 917-584-9474