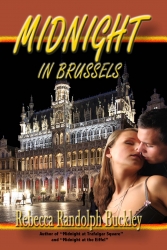 Queen Creek, AZ, December 12, 2009 --(
PR.com
)-- In addition to Rachel's continuing life's journey, "Midnight in Brussels" is also the story of Amanda - a naive, inexperienced, young woman - whose husband of seven years disappears on Christmas Day, leaving her penniless in the Nevada desert outside of Las Vegas in a house trailer without a car and no means of support.
Amanda's married sister, Paula, comes to the rescue, whisking her away to California to live in a sprawling riverside home in the San Joaquin Valley - a far cry from the meager existence both girls experienced in the Arkansas Ozarks as they were growing up in their grandmother's care.
Amanda finds work with the help of Paula, begins to save her money for her dream trip to Bruges, Belgium - where lacemaking and medieval quaintness and beauty abound. But she must decide what she wants most: fulfilling her dream in Belgium or staying in the U.S. and marrying the man who adores her.
In "Midnight in Brussels" Rachel O'Neill is an American writer living in Cornwall, England. Her life becomes entwined with Amanda's, promising more gut-wrenching excitement, suspense, and adventure as was delivered in "Midnight in Trafalgar Square" and "Midnight at the Eiffel."
In her novels Ms. Buckley writes about romance, travel, sadness, tragedy, elation, accomplishment and overcoming obstacles in life, realizing one's self worth, and much more. On the negative side you'll find death, rape, abuse, all the stuff we abhore. Rebecca says, "Both negatives and positives are part of reality, and in my novels the good stuff surpasses the bad. Most times ... girl gets boy."
The author lives in Queen Creek, Arizona, and is busy writing her next novel - "Midnight in Moscow."
###