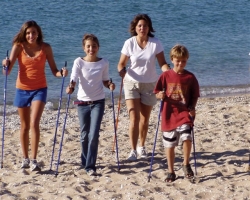 Glen Arbor, MI, December 12, 2009 --(
PR.com
)-- Nordic Walking is slowly gaining momentum here in the USA and Pete Edwards, the owner/founder/coach of
SKIWALKING.COM and the American Nordic Walking System
, has been optimistically promoting the many healthy benefits of walking with the perfect length poles and the correct technique.
Nordic Walking is the fastest growing fitness activity in Europe. An estimated 8 million Europeans are walking with special Nordic Walking Poles – in the cities (with removable rubber Nordic Walking tips/paws on), out in the country and up in the mountains. The removable rubber Nordic Walking tips/paws are ideal for pavement and other hard surfaces. Remove the rubber tips/paws and the metal tips are exposed for use on trails, the beach, snow and ice.
Edwards has been coaching runners and skiers for over 25 years. Hill bounding and ski walking with poles have been incorporated into many of his athletes workouts for decades. His passion for running and skiing have fueled the success of skiwalking.com and the American Nordic Walking System. When Edwards had to give up marathon running he discovered right away that walking and running with poles radically reduce the stress to the weight bearing joints – the shins, knees, hips and back. Edwards, his family and friends can be spotted daily Nordic Walking and/or cross country skiing the hilly trails in back of town – Glen Arbor, Michigan (home of the Sleeping Bear Dunes National Lakeshore).
Edwards's enthusiasm for Nordic Walking went into overdrive when hundreds of thank-you cards and happy customer email/testimonies started arriving. Often these success stories refer to Edwards' one-piece Nordic Walking Poles as "miracle sticks". Edwards is quick to point out that it is really just good physics.
Perfect length poles help us to automatically walk with a super straight back - better walking posture is biomechanically a good thing. This improved walking posture when combined with the unique 4-Wheel-Drive type action of walking with poles radically reduces the stress to the shins, knees, hips and back.
Nordic Walking is low impact and yet provides a highly effective workout - burning more calories and working more muscle groups than regular walking.
Nordic Walking's winning combination of improved posture, unique 4-Wheel-Drive type action and shock absorbing benefits – are helping many individuals to walk comfortably again. Nordic Walking Poles are helping individuals with balance issues, knee issues or new knees, hip issues or new hips, back issues (including those with rods in their back), weight issues, multiple sclerosis (MS), parkinson's (PD), neuropathy, arthritis, bursitis, scoliosis, lumbar stenosis, fibromyalgia, post polio, osteoporosis, stroke recovery, cancer recovery and other limitations to walking. Nordic Walking poles are helping thousands of Americans get off the couch, successfully get outside and start walking safely. Edwards' one-piece SWIX and EXEL Nordic Walking Poles are helping individuals to effectively launch much needed walking campaigns.
According to Nick Mahood, SWIX USA Nordic Walking Director, "Pete Edwards, The American Nordic Walking System and skiwalking.com's owner/founder/coach, has single handedly introduced thousands of Americans to Nordic Walking through his enthusiastic Nordic Walking clinics! I have no doubt that Edwards is the #1 retailer of Nordic Walking Poles in the USA! You can quote me on that!"
SKIWALKING.COM and The American Nordic Walking System are the only source in North American with a full size curve of SWIX and EXEL Nordic Walking Poles. Edwards offers 14 different standard lengths and provides free custom fitting for individuals over 6' 7"
Hosting Nordic Walking clinics is extremely rewarding for Edwards and he especially enjoys hosting free Nordic Walking clinics for MS, Parkinson's and Diabetes support groups, plus Wounded Warrior Programs. Edwards and his family also donate durable yet lightweight one-piece Nordic Walking Poles to Wounded Warrior Programs at Walter Reed, Fort Carson, Fort Lewis/Madigan/McChord and Vicenza, Italy.
Edwards has proven repeatedly that Nordic Walking Poles are for all ages and all fitness levels – not just expert skiers deprived of snow. He is also committed to the simple fact that one-piece Nordic Walking Poles that are sized correctly are safer, lighter and much more durable than cheap twist-lock and flip-lock adjustable length/telescoping/collapsible poles.
###