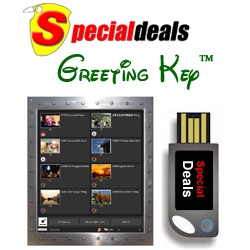 Sunnyvale, CA, December 15, 2009 --(
PR.com
)-- Specialdeals.com, an ecommerce portal planning to offer fully integrated promotion, referral, reward, and social networking services, launched its free realtime media feed services via
Instant Media Frames
and Greeting Keys for sharing photos and videos.
Instant Media Frames turn every computer including desktops, tablets, notebooks, and netbooks into a virtual photo/media frame for sharing photos and videos. All media content can be played back automatically with the most recent content shown first. It takes only a few seconds to create a personalized Instant Media Frame from YouTube, Flickr, and Picasa accounts. Instant Media Frames can be shared via Twitter, Facebook, email, as well as websites and blogs using the embed code. The views and clicks of each Instant Media Frame are tracked and detailed.
Photos and videos contained in an Instant Media Frame can also be shared via Specialdeals.com's Greeting Keys. The Greeting Key is a small USB device that can be plugged into any computer for access to a personalized greeting page, which can be changed at any time, for people to view photos and videos without even touching the keyboard. The Greeting Key issuer can receive an email and a tweet whenever the Greeting Key is used. Detailed records of access time and location are also provided for each key.
"Our media feed services are the best way to utilize all of your photos and videos stored across the Internet to create an engaging, unique online greeting that truly takes advantage of today's Web 2.0 technology," says Specialdeals.com CEO Andy Parng. "Sharing photos and videos via an Instant Media Frame and a Greeting Key is simply more fun, more personalized, and easier than ever before. It's like a magic that delivers cloud-based greeting services to every computer with the plug-and-play simplicity. This essentially creates the Grandpa/Grandma mode for photo/video sharing." Special deals, personalized by location, can be subscribed and streamed into Instant Media Frames in the near future. The Greeting Key soon can be used as a smart reward key at local businesses too.
For a limited time, Specialdeals.com is offering the USB-based Greeting Key free of charge to share holiday photos and videos. The Greeting Key is small and easy to carry in a key chain. It works on any computer without the need to install any software. It needs no battery and has a very long (> 5 years) life. The Greeting Key can be configured and ordered within minutes. It is a unique and priceless gift that will be appreciated and enjoyed time and time again.
About Specialdeals.com
Headquartered in Sunnyvale, California, Specialdeals.com was founded in September 2009 by a team of Internet veterans, software gurus, and enthusiastic deal makers. Specialdeals.com's mission is to become the largest "promotion + referral + reward + social networking" portal for shoppers, merchants, and partners. It plans to offer an integrated solution to help merchants to leverage the power of digital and social media to promote their business and reward their customers in spring, 2010. Specialdeals.com is located at 440 N. Wolfe Rd. Sunnyvale, CA 94085 and can be reached at
http://www.specialdeals.com
.
###