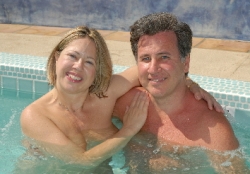 Palm Springs, CA, December 17, 2009 --(
PR.com
)-- Fun is the operative word for guests of The Terra Cotta Inn clothing optional resort and spa, Palm Springs, California. Everyone has so much fun there. Why, Terra Cotta's website even has the word fun in it's URL. It's
http://sunnyfun.com
Whether your fun comes from laughing at all the jokes told by the new friends you've made, or it's romantic fun with your loved one because you're finally spending some quality time together, you'll love vacationing and having fun at The Terra Cotta Inn.
Terra Cotta guests are very loyal as there is no other nude sunbathing resort in the world quite like them. Averaging just over a 75% repeat guest rate, one of the highest in the travel industry, guests come from around the world to stay at their favorite clothes free resort in Palm Springs. Although most guests are from the U.S., Canada, England, and Australia.
First timers love the Terra Cotta Inn's low-key topless and nude sunbathing experience. One of the many reasons they're so popular is they operate no differently than any other fine boutique resort. However, one big difference is Terra Cotta guests get much better suntans.
Many people have a misconception that only "card carrying" nudists or naturists vacation at nudist resorts. That just isn't true at Terra Cotta Inn. The media calls us "the most mainstream clothing optional resort in America and perfect for couples trying topless or nude sunbathing for the first time," says Tom Mulhall who with his wife Mary Clare started Terra Cotta inn 15 years ago.
"Regular people like teachers, nurses, doctors, entrepreneurs, accountants, tradespeople, police, firefighters, etc. love staying with us. And because we are close to Hollywood, we even have the occasional celebrity. Guests are all ages, from 21 on up. And all body shapes and sizes. No matter who you are, everyone always has so much fun here."
In their 15 years, Terra Cotta Inn has received many accolades from around the world. From the Chicago Tribune, to USA Today, to AOL, to Tripadvisor, to the Vancouver Sun, to Australia's media empire News.au.com, and more, they're always on everyone's list of the 10 best or top clothing optional resorts in the world.
Just this December in the Palm Springs Life Magazine's Best of the Best issue, they were even selected as one of the top three of all boutique hotels in the whole Palm Springs area.
In these tough economic times, it's good to know that Terra Cotta Inn is also one of the best value nudist resorts around. For instance, this November, MSNBC had an article titled "5 reasons to bare it all on your next vacation." In their article, they wrote a paragraph called "It's a deal." They recommended only 3 nudist resorts in the US as a deal. Naturally, Terra Cotta Inn was recommended as they are one of the best value nudist resorts around.
So, if you are looking for a new vacation experience. Something fun and romantic where you get to create happy vacation memories to last a lifetime, give the Terra Cotta Inn, Palm Springs a call at 1-800-786-6938. The only thing you have to lose is your funny tan lines.
###