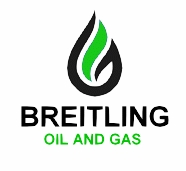 Dallas, TX, December 30, 2009 --(
PR.com
)-- Breitling Oil and Gas Corporation, a growing oil and gas drilling and exploration company, is pleased to announce that it has in place a preliminary agreement for the purchase of Southwest Energy Exploration of Oklahoma City, OK. Under the confidential terms of the agreement, which will go into effect January 1, 2010, and is subject to a number of conditions including the receipt by both parties of certain consents and releases, Southwest Energy Exploration will be a wholly owned operating subsidiary of Breitling Oil and Gas.
The acquisition includes all Southwest Energy Exploration property, equipment and leases of developable land in Oklahoma and Texas. Management, which has over 30 years experience in the industry, is contracted to remain with the business for a minimum of five years. Southwest Energy Exploration was started in 2004 and remains a local leader in oil and natural gas exploration within the State of Oklahoma.
Chris Faulkner, CEO of Breitling, commented, "We are excited to bring Southwest Energy Exploration on board and look forward to its quick integration into the Breitling family of companies." Additionally, Parker Hallam, COO of Breitling was quoted as saying, "We look forward to a very healthy and productive 2010 and continuing to grow our business units and revenue while satisfying both our clients and shareholders alike."
--About Breitling Oil and Gas Corporation--
Breitling Oil and Gas was founded in April 2003 to apply state-of-the-art petroleum and natural gas exploration and extraction technology to the development of onshore oil and natural gas projects. Our focus areas include Texas, Oklahoma and Louisiana. Breitling offers oil and gas investment opportunities through direct participation programs and oil and gas investment joint ventures which enable investors to participate in the potential cash flow and unique tax benefits associated with oil and gas investments. Especially important in a downturned economy, oil and gas investments allow savvy investors to diversify and reinforce their investment portfolios with a stable commodity that is in steady demand.
--About Southwest Energy Exploration--
Southwest Energy Exploration is an Oklahoma-based oil and gas exploration, development and production company with current operations throughout Oklahoma. Founded in 2004, the experienced management team has aggressively sought to acquire select properties within Oklahoma which provides immediate positive cash flow and development opportunities for future years.
###