Top Five Reasons Why Your New Years Resolutions Should Include Vacationing Clothing Optional at The Terra Cotta Inn, Palm Springs, California
Year after year, you make New Years resolutions that you fail to keep. This new year or should we say nude year, why not add a fun vacation experience to your resolutions. One that you will want to keep. Resolve to take an exciting vacation at a clothes free nude sunbathing resort.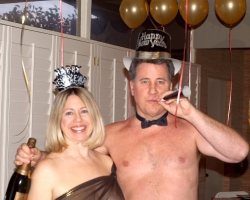 Palm Springs, CA, December 30, 2009 --(
PR.com
)-- "We don't stop playing because we grow old, we grow old because we stop playing." Nobel Prize winner George Bernard Shaw wrote these wise words decades ago. They were true then and even truer today.
In these difficult times everyone needs to have more fun in their lives. By taking a vacation at The Terra Cotta Inn clothing optional resort and spa, Palm Springs, California
http://sunnyfun.com
one of the best nudist resorts in the world (according to AOL, Tripadvisor, USA Today, Chicago Tribune, and more publications), you will have a great time.
Here are the top five reasons your New Years resolutions for 2010 should include a vacation at Terra Cotta Inn.
1) It's the most romantic vacation you will ever experience.
Terra Cotta Inn is a clothing optional resort that caters to couples. No noisy kids here to disturb your relaxation. Terra Cotta puts you into husband - wife mode or boyfriend - girlfriend mode. You can escape the mom and dad routine all vacation long.
Topless and nude sunbathing is a very sensual experience. The warm sun and water gently caressing your bare skin, heightening all of your romantic senses. Studies show trying new romantic adventures in a safe environment helps maintain loving relationships.
A Terra Cotta Inn getaway will create a romantic jump start for kicking your love life back into high gear.
2) A Terra Cotta Inn vacation is a great value
In November 2009, MSNBC had a TV travel segment. They said "nakation anyone? The skinny on clothing optional vacations." The show recommended three nudist resorts that deliver exceptionally good value and deals. Naturally, Terra Cotta Inn was one of the recommended resorts.
From complimentary breakfast and afternoon snacks, free parking, free WiFi, top of the line king sized beds, state of the art salt water system heated pool and jacuzzi (the water feels heavenly on your bare skin), early check in at 10am and late check out at 5pm, in room refrigerators, microwaves, coffee, DVDs, flat screen TVs, ipod docks and more, they have all the amenities you would expect at much more expensive resorts.
They were even selected as one of the top 3 boutique hotels in the whole Palm Springs area this December in Palm Springs Life Magazine, their Best of the Best issue.
And every year in the months of December, January, July and August Terra Cotta Inn always runs a room sale for even more savings.
Value is now considered the new luxury and Terra Cotta Inn delivers affordable luxury.
3) You can pack light avoiding checked baggage hassles at airports
What's the usual dress code at Terra Cotta Inn? It's flip flops, sunglasses, sun block, and a smile. No more having to pay to check your bags. No more having to buy a new resort wear wardrobe. The only wardrobe you need to pack is your birthday suit and it's always a perfect fit and always in style.
4) A Terra Cotta Inn vacation makes you feel better about yourself.
The Terra Cotta Inn is the most mainstream nudist resort in America and is perfect for couples trying topless or nude sunbathing for the first time as reported by CBSmarketwatch.com. Repeat guests from around the world flock here for fun vacations.
Women especially love Terra Cotta vacations. In society, women are constantly judged by their looks. They're told they're not sexy enough unless they buy certain cosmetics, wear certain trendy designer clothes, or wear lots of bling.
No need to worry about making a fashion statement here. The only thing you have to worry about is does your hat match your sandals. You truly get to relax to the max at Terra Cotta Inn. Once your clothes are shed, so are the worries of the everyday world.
5) Palm Springs is one of the Best Vacation Destinations in the United States.
This November, the popular travel website Tripadvisor picked Palm Springs as one of the top 5 sun destinations to vacation at this year. Last year, Lonely Planet Travel Guide books in their book "Blue List Best in Travel 2008" wrote "want to enjoy the best...the planet has to offer? Forget Sydney, San Francisco, or Shanghai... They then recommended Palm Springs as one of the worlds top 10 "cities on the rise."
Palm Springs is a fun resort community. It has museums, art galleries, casinos, casual and fine dining, world class golf, hiking, sight seeing, shopping, and the largest discount designer shopping mall just 20 minutes away.
Palm Springs is the sunniest city in the US averaging less than 5 inches of rain a year. You are almost always guaranteed great topless and nude sunbathing weather year round.
So this year make a fun New Years resolution that you intend to keep. Give the Terra Cotta Inn a call at 1-800-786-6938. Say goodbye to funny tan lines forever.
###
Contact
The Terra Cotta Inn Clothing Optional Resort and Spa
Tom Mulhall
1-800-786-6938
http://sunnyfun.com

Contact