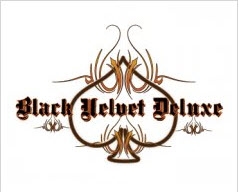 Los Angeles, CA, January 08, 2010 --(
PR.com
)-- For most indie bands starting out, paying the rent and keeping the gas tank full to get to the next gig are usually the primary thoughts, and yea, those who have traveled that road can't fault the thinking there. However, for the quartet that calls themselves Black Velvet Deluxe, there is something a little deeper going on, right out of the starting gate. Having just released their first album these guys knew they wanted all future Rock n Rollers to have a chance to play out their dreams, and that is why they decided to give 10% of their profits to The School of Rock Music Scholarship Fund right from the start.
Carlos "Los" Castenada, the band's vocalist puts it this way, "I can't imagine life without music – and it's really hard to teach yourself. Not every kid is an athlete or a strong academic student but every kid deserves the right to experience something they love. With all the cutbacks in funding the arts in public schools, where can kids who are like I was have access to music education?"
Black Velvet Deluxe's guitarist and School of Rock Music graduate, Nate Beck, explained that when he wanted to quit piano and start strumming, his mom made him buy his Behringer Strat copy and amp package himself. "I tried to teach myself how to play but I could only go so far. When my mom saw I was serious, she paid for my guitar lessons, but not all parents can or will do that for their kids. I can't even imagine where I'd be today if she hadn't. Music has been a part of my life all my life. And so has music education. I graduated from a performing arts high school and I studied at The School of Rock Music. It's a great after-school music education program, and I know there were kids there that would not have been able to be there if it hadn't been for the financial aid available, and let me tell you, there were some amazing musicians among them."
Josh Lewis, drummer for Black Velvet Deluxe, believes every professional musician should be giving back to youth music education in some way. "We have made a commitment to sharing what we make so that a kid's ability to study music isn't dependent on their parents being wealthy."
"Public school music education just doesn't meet the needs of a lot of kids. I know they're cutting back on funding the arts in public schools instead of athletics because they make money of the athletics program but I don't agree with the decision. So if we can financially help kids who have an interest in music who might not otherwise get to try the guitar or drums or bass – well, that's a good thing," adds Sal "Sal-Daddy" Acosta, the bass player for Black Velvet Deluxe.
"If you think about it, the kids in grade school today will be the bands I'll be listening to when I retire so I guess you could say I have a vested interest in their music education."
To learn more about this gritty rock band with a heart for young rockers, visit
Black Velvet Deluxe
.
###