Evileye Books Signs Horror and Fantasy Writer John Urbancik to Multi-Book Deal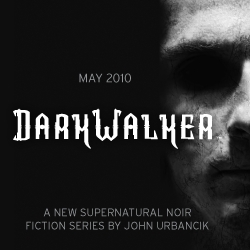 Chicago, IL, January 11, 2010 --(
PR.com
)-- Adding to the string of licensing deals struck in 2009, Evileye Books, announces the signing of horror and fantasy writer, John Urbancik, to a multi-year book deal to develop a new supernatural noir fiction series titled "DarkWalker". The first volume of the series is a novel debuting in May.
Under the terms of the agreement, Mr. Urbancik will license all rights to the DarkWalker intellectual property to Evileye Books' parent company, Pulp+Pixel Entertainment Co., over a number of years. Evileye Books will publish and market the books in English domestically, while Pulp+Pixel will develop all other rights with interested partners, outside agents, publishers and production houses.
"I'm pleased to be part of the Evileye Books group of writers," said Mr. Urbancik. "Their approach is fresh, comprehensive and absolutely right for the new age of publishing we live in."
Book one, a novel titled "DarkWalker", follows the principle character of the series, Jack Harlow. He lives in the shadows of this world and other realms, watching and recording without interfering. But when he is forced to protect the woman he loves, Harlow breaks the rules that give him immunity and becomes open game for the creatures that once not dared go after a DarkWalker.
"I wanted to create a character who tries to engage in life, who keeps his head down and plays by the rules, but suddenly finds himself pinned against the system and his own desires." said Mr. Urbancik.
Evileye Books expects to publish one novel per year, as well as adapt the stories to other formats, most notably graphic novels.
"DarkWalker is a great platform to explore in different formats," said A.N. Ommus, Editorial Director of Evileye Books. "Graphic novels let us tell the stories in a visual way that expands our sense of the DarkWalker universe John is building."
About John Urbancik
John Urbancik is the author of the novels, "Sins of Blood and Stone" (Catalyst Press) and "Breath of the Moon" (Solitude Publications).
Mr. Urbancik has also published various novellas, including "Babylon Rising", with Brian Keene, and "Beneath Midnight" from Delirium Books, and his most recent, "Necropolis" from Bad Moon Books.
Of his work, acclaimed author, Tim Lebbon ("The Island") has said, "Urbancik's writing is stylish and rich."
Horror writer Brian Keene ("Urban Gothic", "Darkness on the Edge of Town") has said, "John Urbancik's work is often magical, often thought-provoking, and always entertaining. He is a consistent craftsman and I love to lose myself in his vast dreamscapes."
About Evileye Books & Pulp+Pixel Entertainment Co.
Evileye Books publishes crime, horror, dark fantasy, science fiction and other speculative genres in the spaces of prose and graphic novels.
They are publishers of Bram Stoker Award Winner Mike Oliveri's new supernatural thriller series, "The Pack". The trade paperback of book one, "The Pack: Winter Kill" was released in December 2009.
They are also publishers of the upcoming dark fantasy series, "Raze" by Cullen Bunn and Shawn Lee.
Pulp+Pixel Entertainment Co. is an intellectual property rights management company.
###
Contact
Evileye Books
Aaron Nathaniel Ommus
312.445.0943
www.evileyebooks.com

Contact