Piyolet is Pleased to Announce: Ayana Mack Will Host and Grey Goose Will Sponsor the Divas' Closet Cleanout
Designer Clothing Auction and Sale to support Dress for Success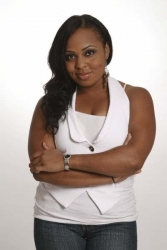 Houston, TX, January 22, 2010 --(
PR.com
)-- Ayana Mack "Houston's Hottest Hostess" will bring her witty sense of humor and vivacious personality to Divas' Closet Cleanout! as the host of the live auction. Ayana is PR for Diamond Cutters International, a Radio Host for 104.1 KRBE and works for Fox 26. She is the persona of a woman of confidence and believes in the mission of Dress for Success Houston.
Dress for Success is the organization giving the key "confidence" to women in need in cities all over the country. The mission of Dress for Success is to promote the economic independence of disadvantaged women by providing professional attire, a network of support and the career development tools to help women thrive in work and in life.
In support of this effort, Piyolet, LLC and MahoneyBrown International present Divas' Closet Cleanout! on January 23rd. The event will be held at 3714 Drake in the Upper Kirby area of Houston. Divas' Closet Cleanout! is a shopping experience for recessionistas and couture connoisseurs of all coin purse sizes. New and gently used items from Gucci, Louis Vuitton, Tahari, Donna Karan and other designers will be available for sale or auction. Enjoy light bites, divatinis and cocktails mixed with Grey Goose® while shopping for a great cause from 11am to 4pm.
Admission is $5 on http://divasclosetcleanout.eventbrite.com, or a donation of a gently used dark colored handbag for Dress for Success Houston will be accepted. This will be a guaranteed sellout.
The Weisblatt Law Firm, LLC and Grey Goose® are sponsors of this charitable occasion. If you are interested in becoming a sponsor or vendor, please contact Roslyn Bazzelle at rbazzelle@piyolet.com
Piyolet, LLC is a fitness company which provides classes, fitness DVDs and health & wellness education through the fusion of Pilates, Yoga and Ballet. Visit www.piyolet.com or call 1-888-PIYOLET (749-6538) for more details. MahoneyBrown International is a marketing and event planning company assisting profit and nonprofit business and organizations with their needs. Contact Kristina Mahoney Brown with inquiries at Kristina@TheTaxDiva.com www.divasclosetcleanout.com
###
Contact
Piyolet, LLC
Roslyn Bazzelle
1-888-PIYOLET
www.piyolet.com
info@piyolet.com

Contact