Revisiting the Roswell UFO Crash
Does evidence still exist today in Roswell, New Mexico of a mysterious UFO crash from July 1947? Let this book be your guide to visiting all the key sites (more than 35) in and around Roswell that were involved in the famous "Roswell Incident."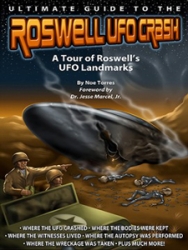 Roswell, NM, February 08, 2010 --(
PR.com
)-- His new book is the closest thing to jumping in a time machine and witnessing first-hand the alleged 1947 crash of an unidentified flying object near Roswell, New Mexico, says author Noe Torres, a UFO researcher and member of the Mutual UFO Network (MUFON). Torres's book, "Ultimate Guide to the Roswell UFO Crash," uses maps, photographs, and eyewitness accounts to direct Roswell enthusiasts on an exhaustive, self-guided tour of more than 35 places that have been linked to the world's foremost UFO case.
With this book in hand, travelers can locate and visit some of Roswell's most mysterious and infamous places, including the military aircraft hangar south of town where, allegedly, the flying saucer and the bodies of its unearthly occupants were taken by the U.S. Army following the crash. Witnesses described the creatures as three to four feet tall with unusually large heads, slanted eyes, thin arms, and only small "slits" or "holes" where their mouths, nose, and ears should be. According to Torres, one of the beings was allegedly alive when brought to the Roswell Army base and may have led guards on a frantic chase across the compound before being shot.
Torres's book also blazes a path to the site of the old Roswell Army Air Field hospital, where a witness reported seeing military doctors conducting a bizarre autopsy on the strange beings. Allegedly, the autopsy attempt was abandoned when a foul stench from the creatures' bodily fluids caused everyone within smelling distance to become intensely ill.
A short distance away from where the hospital stood, Roswell visitors can sit in the very room where one of the nurses present during the alien autopsy allegedly drew sketches of the creatures for Roswell mortician Glenn Dennis. "She described the beings as about three and a half feet tall with a disproportionately large head, deeply-set eyes, concave nose with two holes, a narrow slit for a mouth, and ears consisting of a small hole with a flap of skin. The creatures had no hair at all, and their skin was black, possibly from exposure to the sun after the crash. Instead of teeth, they had heavy cartilage, and their skulls that were 'flexible' rather than rigid. The nurse's attention was especially drawn to the hands of the creatures, which had only four fingers with each finger having a pad resembling a suction cup at the end," Torres writes.
Although most of the locations featured in Torres's new book are located in and around Roswell, a few of them are farther away, such as the former Foster Ranch in nearby Lincoln County, about 100 miles from Roswell. It was there that rancher Mack Brazel reported finding strange debris and bodies that he believed to be extraterrestrial in origin. He reported his discovery to a number of civilians before the U.S. Army allegedly pressured him to keep quiet about what he had seen.
Among other UFO landmarks unveiled in the book are the still-existing homes of a number of key Roswell eyewitnesses, including Roswell Army Air Field intelligence officer Jesse Marcel. Marcel's son, Jesse Jr., assisted Torres with the book and also wrote the book's foreword. "Here you will read about my former home, which still stands in Roswell and where we examined the strange wreckage. You will also read about many other places, including the mysterious RAAF aircraft hanger, where UFO wreckage and bodies were temporarily stored. Through a clearer understanding of the Roswell event, we discover greater truth about the universe and our place in it. We are not alone," Marcel, Jr. writes in the foreword.
Resulting from three years of intensive research into the Roswell Incident, "Ultimate Guide" contains over 120 photographs, including historical shots of what these UFO landmarks looked like in the 1940s and recent photos showing what the locations look like today. Torres designed the book to be used either as a field guide to take along on an actual Roswell visit or as a means of taking a "virtual tour" in the reader's mind. The book is organized in a manner that facilitates a driving tour, starting with sites that are closest to the center of Roswell and then moving south toward the former Roswell Army Air Field, before finally taking readers out to a few out-of-town locations.
Roswell historian John LeMay, author of the acclaimed Images of America: Roswell, a photographic essay of Roswell's past, also collaborated with Torres on the project. LeMay said, "Here, for the first time, is the story of every historic building and eerie site that plays an important role in the story of the Roswell Incident. Armed with this information, you the reader are able to walk where the witnesses walked, retrace their steps, and experience for yourself exactly what they experienced."
In the Afterword, LeMay points out that although many books have been written over the years about the Roswell Incident, Torres's is the first to carefully and systematically analyze the key sites linked to the case. "Prior to the publication of this book, few visitors to Roswell had access to the information required in order for them to actually see the sites where the Roswell Incident took place. Thanks to 'Ultimate Guide,' exploring these places will no longer be a problem. The book has even been helpful to me, a lifelong Roswell resident, who should have probably already known where all this stuff supposedly happened."
"Ultimate Guide" author Noe Torres has been a regular guest speaker at the Roswell UFO Museum, having appeared at its annual festival in 2007, 2008, and 2009. Torres and colleague Ruben Uriarte presented a number of lectures on their UFO research and on their two UFO books, "Mexico's Roswell" and "The Other Roswell." During these visits to the museum, Torres met other Roswell UFO researchers who later were instrumental in the writing of his newest book. He also met and formed a friendship with museum employee E. J. Wilson, who took all of the photographs of contemporary Roswell that appear in the book. Historical photos were acquired under license from the Historical Society for Southeast New Mexico.
Bringing Roswell's UFO landmarks out into the light of day turned out to be an arduous task for Torres. "It's definitely not the kind of information that's just out there, floating in the ether. It was extremely difficult to pinpoint where everything happened, exactly what happened, and precisely how to visit all those places today. I basically had to read, cover to cover, about 20 different books, talk to a number of colleagues in the field, talk to a local geologist knowledgeable about the Foster Ranch debris field, spend time at the Roswell UFO museum and in several libraries, and look at photos and documents from the 1940s provided to me by other researchers and by the good folks at the Historical Society for Southeast New Mexico. The end result is the kind of book that I myself was hoping to find three years ago when I first visited Roswell – a guide to retracing the mystery of 1947 by visiting the very places where everything happened."
The 208-page "Ultimate Guide to the Roswell UFO Crash" retails for $14.95 in paperback and is available at http://www.roswellbooks.com.
###
Contact
RoswellBooks.com
Noe Torres
956-802-3096
www.roswellbooks.com

Contact