Fishdom™ from Playrix® Goes Social
Award-winning title coming to Facebook® Platform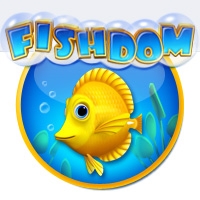 Vologda, Russia, February 26, 2010 --(
PR.com
)-- Playrix® Entertainment, a top-tier casual games developer and publisher of such hits as Call of Atlantis™, 4 Elements™, Gardenscapes™ and others, announced that it's bringing its flagship franchise Fishdom™ to the social networks. The social adaptation of the game is slated for an early March release coming first to Facebook with MySpace and vkontakte versions next in line.
"Establishing the Fishdom brand presence on Facebook is a major step for us," said Igor Bukhman, Playrix's President, Products. "We are very excited to bring the centerpiece of our game's library to the social networks. Fishdom™ is a special game for us. Working on its social adaptation, which is not a match-3 by the way, we were committed to keeping the relaxing and fun environment with amusing sea creatures, brilliant colors and gorgeous graphics that the original Fishdom is loved for, but topping it with social features."
The original Fishdom™, a highly acclaimed puzzler from Playrix, was released in June 2008 and has been a best seller since then, building an unprecedented fan base and receiving spectacular user ratings and favorable reviews. The game with conversion rates reaching 14% proved to be #1 hit and one of the top-selling match-3 titles across the boards. It has won numerous critical accolades and "game of the year" awards being called one of the greatest games of 2008 by Casual Games Association, announced among the final nominees for the 2009 Great Game Awards (RealNetworks®, Inc) and named one of the Greatest Video Games 2009 by iParenting Media Awards late last year. In 2009 Playrix extended its Fishdom franchise with four new titles in various genres stating its commitment to deliver the game's unique experience to the widest possible audience.
The social adaptation of Fishdom™ is an aquarium simulation game where players need to take care of lively tropical fish and develop a beautiful fish tank for their enjoyment. Players get to purchase, feed and play with their finned pets watching them grow. Adding exotic plants and original accessories to the virtual aquarium, players show off their creativity to friends and share the fun experience.
Among the game's features are:
· Stunning graphics never seen before in social games
· Charming, charismatic fishies
· Engaging and fun social features to enjoy with friends
In 2007, Facebook launched Facebook Platform to empower developers and entrepreneurs around the world to make the Web more social for users. Millions of Facebook users return to the site each day, providing unparalleled distribution potential for applications and the opportunity to build a business that is highly relevant to people's lives.
Facebook® is a registered trademark of Facebook Inc.
About Playrix® Entertainment
Founded in 2004, Playrix Entertainment has become known as a leading casual games developer and publisher. The team behind such hits as Gardenscapes™, Fishdom™, The Rise of Atlantis™, 4 Elements, Call of Atlantis™, and others, is steadily stepping up production creating new compelling games and engaging gaming experiences on a variety of platforms. For more information please visit
www.playrix.com
.
###
Contact
Playrix Entertainment
Maria Ievskaya
7 (8172) 71 76 21
www.playrix.com

Contact