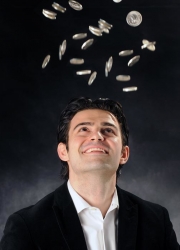 Fort Worth, TX, March 04, 2010 --(
PR.com
)-- Tarek Saab, former finalist on the television show, The Apprentice, has two million reasons to be thankful Donald Trump volleyed the words "You're fired." The author, speaker, and entrepreneur recently capped a golden fifteenth-month run with GoldandSilverNow.com, his bullion exchange platform that boasted nearly $2 million in online revenue while trading in small quantities of gold and silver bullion.
On the heels of this achievement, Saab has announced that he is shifting his business to
Guardian Commodities
in order to leapfrog into markets beyond the scope of GoldandSilverNow.
"It's a very exciting time to be in the precious metals business," says Saab, who publishes a nationally syndicated financial column called Saab Stories. "Gold continues to shine with the public. The markets are extremely volatile, and we believe gold will outperform other asset classes in the coming years."
Shipping to over 180 countries worldwide, Guardian Commodities is one of the only brokers shipping bullion internationally. In addition to gold and silver, the company also sells platinum and palladium bullion.
"Gold&SilverNow was an experiment that really paid off," explains Saab. "We believe the time is right to transition my business and develop this newer, stronger company into one of the premier worldwide brokers, so we're teaming up with some veteran entrepreneurs on Guardian Commodities."
Joe Condit is the CEO of The Condit Group LLC and holds a financial interest in Guardian Commodities. "Teaming up with Tarek Saab was a necessity for the business," explains Condit, who recently was named Entrepreneur of the Year by Miami University. "He is well respected in this industry, and his results with his former company are obvious to everyone. Guardian will expand substantially in 2010 with Tarek on board."
In addition to precious metals sales, Guardian Commodities also offers custom minting, worldwide bullion storage through its network of partners, and partner programs for investment advisers.
"We have succeeded in developing a robust, content-rich platform for commodities investors and enthusiasts," adds David J. Colletti, Jr, Esq., a member of the company's Board of Directors. "The market is evolving, growing, and Guardian will lead the charge."
Among the many products offered by Guardian Commodities: US Mint Gold and Silver Eagles; Royal Canadian Mint Gold, Silver, Platinum, and Palladium Maple Leafs; South African Gold Krugerrands.
About Guardian Commodities
Guardian Commodities™ is a leading US-based broker of gold, silver, platinum, & palladium bullion. Servicing large and small customers, and specializing in high volume purchases, we are pleased to offer our clients shipping and customs brokerage to over 180 countries worldwide via secured armored transport. As bullion brokers, we work with the best wholesalers from around the world to provide our customers with reliable and competitively priced bullion.
###