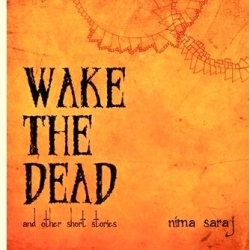 Los Angeles, CA, March 09, 2010 --(
PR.com
)-- "Wake The Dead," written by Nima Saraj;
The author, Nima Saraj, twenty-eight years old, whom lives in Marietta Georgia, has recently published a new short story collection book (Out 10/06/2009); available at all online book stores, it is sure to please all audiences with its broad spectrum of genres; Horror, Drama, Action, Romance, Comedy, and much more.
Wake the Dead and Other Short Stories is a collection of three short stories.
"Dawn" is a drama tale of a young man, born never knowing who his real parents were. He finds himself going through life constantly searching for answers about who he is. Along the way he meets many strange, thrilling, unusual and new people, but ultimately, he struggles to belong.
"I Hate You" is a serial killer/thriller story about a man with a great deal of hate in his heart. Unlike others who ignore that hate and their tendencies to act upon it, he uses it and shows the world the evil one man can generate on his own.
"Wake the Dead" is Horror/action/comedy (With Zombies) story about a man who is going through life with no real motivation, just going through the motions. He has nothing to live for, and he keeps waiting for something to come along that will change his meaningless life. He does not have to wait long because shortly after wishing this, something catastrophic happens in the world around him, and he must react, lead others, or die.
Nima's stories are a good and fast read, very entertaining, and a real page turner with many comedic real life moments.
Nima Saraj is a real down to earth person, with a dark sense of humor that can be seen throughout his newest book.
Wake The Dead is available at all online book stores, and some chain retail bookstores if you call and order with them.
Also check out his MySpace profile for info; myspace.com/wakethedeadshortstories.
Wake the Dead inc. consist of owner, writer, Nima Saraj; he writes short stories, scripts, and also makes independent movies (coming soon); Nima is available as a ghost writer as well, and can be contacted through his MySpace page, under the name Wake the dead, with the picture of his book, an orange background with his name, Nima Saraj or the title "Wake the Dead."
###