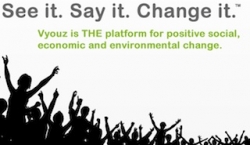 London, United Kingdom, March 23, 2010 --(
PR.com
)-- The Vyouz Network
Renowned for their green websites, Vyouz will shortly release version 4 of their new platform along with a host of new websites.
A reuse widget will help those wanting to "green up" their own blogs & websites and help encourage more recycling.
www.vyouz.com/reusewidget
a simple but effective idea where people can upload reuse, recycle or swap anything directly from their own sites.
To accelerate and support the growth of the network, Vyouz will be offering not only white label products to organizations like universities, and the public sector that will help improve their reuse and recycling figures but also a range of websites called the "dyingto's."
These will help fund the large Free network and include:
DyingToMove A greener alternative for real estate and property sales.
DyingToBuy A greener less stressful way to help with your purchase
DyingToSell A greener way to find a your buyer
With Sharemytransport & carbonfreetrading coming on-line soon as well, will also help reduce those C02 footprints.
Already people are comparing Vyouz to the leading social networks and as the next big eco phenomenon to hit the Internet with their own internal social network facility.
Target release will be May 2010. (In beta at present)
To see how the sites are progressing visit: vyouz.com/network
###