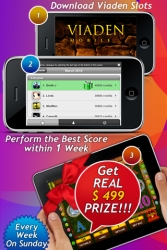 San Jose, CA, March 30, 2010 --(
PR.com
)-- Viaden Media – a company standing at the forefront of quality mobile gaming application development – released "Viaden Legend Slots" game. This is the first game from the Viaden Slots series for iPhone/iPod Touch. Each game from the Viaden Slots series is implied as porting to the App Store 3 different famous video slots from the online casino. At the same time an advertising campaign has been started by Viaden Media. Every week the best gambler of Viaden Slots will be presented with an iPad. Next reward is coming on April, 4. Taking into consideration the buzz around this new device, the game has a chance to become a top-liner.
"Viaden Legend Slots" as all the games from Viaden Slots series stand out against numerous slot applications in App Store thanks to being very realistic. Black belts of iPhone apps development toiled greatly to release this game at such a high quality level. Rich graphics were designed especially for iPhone/iPod Touch. Lifelike sounds indeed recreate Vegas atmosphere.
All Viaden slots use a special solution to get true randomness of symbol combinations which fall out on the reel. Viaden's RNG was audited and approved by Gaming Labs International (GLI) - an independent third party expert specializing in electronic gaming equipment testing. According to the finalizing report provided by GLI: "The Viaden Media RNG showed no deviation from random behavior on the tests. The results produced were well within the normal range. It is our opinion that there are no patterns within any selected number position and the analyzed data passes the tests." This is the only slot in App Store with high-grade algorithm.
"
Viaden Legend Slots
" now consists of three slot machines – Maya Pyramid, Luxor Valley and Legend of Unicorn. Each of them is a video slot with 5 columns, 3 rows and different number of lines to bet. Many featured symbols and bonus games promise the gamblers a special payout.
Together with the full game, the free version of "Viaden Legend Slots" is available in App Store. "
Viaden Legend Slots Free
" can be downloaded for free and contains one slot machine Maya Pyramid, while Luxor Valley and Legend of Unicorn are available for additional downloading.
Every week one more game from
Viaden Slots series
will be released. "Viaden Magic Slots" are coming next week. New slot machines will be available for download in "Viaden Legend Slots" too. In the sequel the game can be expanded to up to 9 machines in one game.
Acording to Yuri Gurski - the head of mobile development dept: "Viaden Slots for iPhone/iPod Touch are sure to be in great demand, as they combine real video slots machines from online casino but without money betting and true prizes for best gamblers. Viaden Mobile appreciates the opportunity to make apps promotion in Apple App Store more interesting. Soon lots of companies will follow our example and many advertising campaigns will arise. We are glad to jump on the opportunity to offer our customers something new and pleasant."
About Viaden Media
Founded in 2001, Viaden Media is now one of the world's leaders of online gaming. The company is renowned for progressive online gambling business solutions, quality-driven delivery model, and deep technical expertise. A new level of application development was reached by Viaden Media as it has focused on the tremendous opportunities of mobile applications. A range of Viaden Media mobile applications for iPhone/iPod Touch, Android, and Windows Mobile was successfully introduced to customers.
###