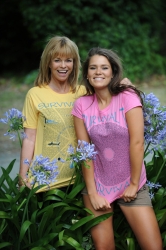 New York, NY, April 14, 2010 --(
PR.com
)-- Laura Smith has the elements of survival perfected down to a T. Survival T been launched to provide everyone with the basic elements of survival, printed in a fashionable, functional manner. After being lost in a national park for 24 hours with her daughter, Laura Smith became inspired to make the tools of survival available to everyone.
"A very small amount of knowledge could have gone a long way," explains Smith. "I went from desperation to inspiration, and came up with the idea for a survival T-shirt," she added. "One wrong turn could have cost me my life, luckily it didn't but it did leave a memory I will never forget."
Smith designed the Survival T to ensure that others do not risk losing their lives when stranded in nature. Months were spent researching the elements of survival, including consulting with survival experts worldwide.
Survival topics that the T-shirt covers include: SOS, fire, food, weather and safety. The design also advises on harmful creatures and insects as well as unusually tricky situations.
The Survival T comes in a variety of bold colors for men, ladies and children featuring two integrally detailed designs. The company also plans to unveil additional T-shirt designs in the future.
All Survival Ts are 100 percent cotton and feature taped neck and shoulders, seamless collar and double needle stitching.
As of now, the Survival T is only available through mail order; however the company is eager to team up with a leading business to launch its products into the mainstream marketplace.
For more information about Survival T and how it can save a life, please contact Laura Smith via e-mail at info(at)SurvivalT(dot)com. View the selection of Survival Ts at SurvivalT.com and learn how some basic information can be the difference between survival and losing a life.
###