BareTrax Pro SEO Marketing Software Adds 50th Client
Since its inception in November, 2009, BareTrax Pro search engine positioning software has been adding clients every month. Stark Logic, creator of BareTrax, is proud to announce that it has added its 50th web site to the software for online tracking and search engine marketing.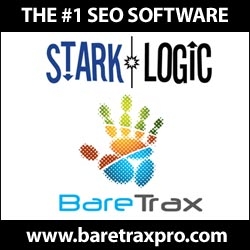 Oceanside, CA, April 16, 2010 --(
PR.com
)-- Stark Logic and BareTrax are excited to announce that 50 web sites have signed up for online search engine marketing and tracking. The software was launched in November, 2009 and has been a downright success. Clients are seeing their rankings move up in the search engines, their traffic increasing, and most importantly, More business.
Through its search engine marketing webinars and services, Stark Logic has also been able to show people how to do their own marketing and has performed services for other businesses as well.
BareTrax is a
search engine ranking software
that helps businesses grow using their web sites and search engine marketing. Using tools and analytics, companies can see the results of their marketing efforts and develop link building campaigns to get higher search engine placement.
"Internet marketing is growing exponentially year in and year out," exclaimed Rich Stark, President and CEO of Stark Logic. "If companies want to grow or even stay ahead of their competition, search engine marketing is an absolute necessity. Unfortunately, companies are getting behind because it takes time to really saturate the market on the web and they are losing market share."
Using its own
search engine marketing software
, Stark Logic is set to double the amount of web sites on the BareTrax software over the next few months.
One customer, Play N Trade, has seen the benefits of internet marketing and the effect it has had on their business. Play N Trade is a video game franchise that has exploded over the past few years. After developing their franchise development web site, Stark Logic has helped PNT achieve a 7% conversion rate from visitors to leads. This is astounding when you consider that the industry average for lead conversions is 2%.
"Stark Logic has helped our company to not only increase sales leads, but has given us a remarkable tool that allows to see where our web site ranks, our traffic statistics, and the number of leads closed and phone calls from our franchise development web site," stated Charles Franklin, VP of Franchise Sales for Play N Trade. "We had no idea what our web site was doing before this and have found this tool to be invaluable."
If you are interested in information about BareTrax, please visit www.baretraxpro.com or Stark Logic (www.starklogic.com) for more information about search engine marketing services.
###
Contact
Stark Logic
Sally Facinelli
949-292-0909
www.baretraxpro.com
Go to www.starklogic.com for more internet marketing information

Contact