BullsEye Radio and Video Chat is Making Their Mark on the Internet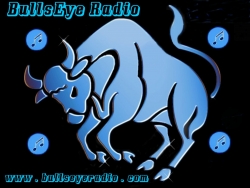 Ithaca, NY, April 21, 2010 --(
PR.com
)-- BullsEye Radio is one of the most interactive and entertaining Video chat and Internet radio sites on the world wide web today. People from all over the world are visiting and making new friends every day.
Finally a place to come without the hassle of the everyday chatroom drama. Monitored chat. Requests from a live DJ in the room and Free video chat for all. Meet your friends, neighbors, co-workers and relatives in this relaxed community. Visit Today! http://www.bullseyeradio.com
A legally licensed internet radio station and video chatroom site all incorporated in one. BullsEye Radio invites you all to come and relax and have some good conversation, enjoy some good music, make requests and dedications and meet some really wonderful friends. And the best part is that to listen or Video chat is 100% free.
Unlike other places on the web, BullsEye Radio doesn't have all the drama that you'll find on other sites. Most of the people there are adults, mature, but still like to have fun and laugh, chat and meet new people enjoy music. There are Oldies shows, smooth Jazz shows, Classic rock shows, Country shows, Blues shows and more. It's an all genre station with a little something for everyone.
Within BullsEye Radio's site, you'll have an opportunity for the 1st time anywhere on the web to have an over 27 year veteran DJ host a private online party for you and all your online friends or family for a small fee. This is a service never before offered on the web. It is unique, new, innovative and creative. You can share a special party with family and friends thousands of miles away, maybe family in the military, maybe a brother or sister getting married in another state. You can see them, talk to them vocally or by text chat, dedicate special songs to them and so much more.
There is a DJ service for residents of Tompkins County New York where you will be able to book BullsEye Radio Disc Jockey Service appear at your private function. Events such as Weddings, Anniversary Parties, Holiday Functions, Company Outings and many many more.
The Lead DJ and Owner John Michaels has been in the Disc Jockey service for over 27 years. Formally an FM radio DJ, he started his his own DJ service and Internet Radio station and has been on the climb up to the top of the entertainment industry since he started. The most reasonable rates in the Central New York area.
Its a full featured site, Internet radio, Video chat, Disc Jockey service and a social community as well, much like other social networking sites but not cluttered with all the annoying silliness like you'll see on the above mentioned. It's more of a place to socialize with adults not teens.
This Service was created with the "listener" in mind. There is too much commercialism in the world today but at BullsEye Radio, you can get back to the enjoyment of music without all the commercialism.
BullsEye Radio would love for you to come check it out for yourself, have a good time, meet some new people from all over the world that are respectful and nice, and maybe make it your online home that you will want to come back to visit again and again.
To visit the site copy and paste the appropriate web addresses in your address bar:
Tune in:
http://panel9.serverhostingcenter.com/tunein.php/bullseyeradio/playlist.asx
Visit Their Video Chat:
http://red5flashhosting.com/ref/bullseyeradio
Their HomePage :
http://www.bullseyeradio.com
###
Contact
BullsEye Radio
John Michaels
607-241-6424
www.bullseyeradio.com

Contact