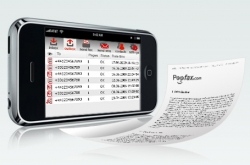 Valley Cottage, NY, April 21, 2010 --(
PR.com
)-- Did you ever imagine that someday a traditional fax machine would fit into a small mobile phone? This has become a reality thanks to Popfax.com by POPESCO. With the new PDA web site from Popfax, mobile devices are de facto, fully featured, miniature fax machines. Having access to mobile fax services in the pocket is an essential for people who are always on the move. Mobility, flexibility and accessibility are the main keywords for online faxing through the new PDA web interface launched by Popfax. It allows end-users to send and receive faxes instantly. All you need is a mobile phone or PDA and Internet connection - no additional software required. The new mobile web site is compatible with all iPhones, Blackberries, and other PDAs or Smartphones, and includes the full range of
Internet fax
features. The mobile fax service is easy to use and includes simplified design and all available
productivity fax tools
. You no longer have to waste your time with old generation fax equipment, sending and receiving is complete in a few simple steps. Just imagine how convenient it would be to take a picture of a document from your PDA, and fax it instantly.
The main features that the Popfax mobile web site adds to your Smartphone, turning it into the perfect business and personal communication tool are listed below:
- Sending and receiving faxes and SMSs from mobiles everywhere (at flat rates even when roaming)
- Personalization of faxes with a cover page
- Managing personal contacts
- Free trial page for sending faxes
Vladimir Popesco
, founder of POPESCO, the company which runs Popfax.com, says: "with the addition of this new interface to the Popfax.com service it is our ambition to bring Internet faxing to all mobile devices and make it more accessible and cost effective, thus increasing customer productivity even when on the move."
In addition, its new web service for mobiles is supplied in 19 languages and customer support is available in 7 languages. Over 50,000 Professional customers worldwide trust Popfax.com services.
###