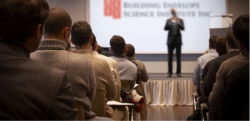 Gainesville, FL, April 21, 2010 --(
PR.com
)-- The Building Envelope Science Institute (BESI) will host a seminar for Defective Drywall Inspection and Remediation. The Building Envelope Science Institute (BESI) has been offering certifications for inspection and remediation of defective drywall since October 2009 and is hosting its next training seminar on May 3 & 4, 2010 at the Courtyard Fort Lauderdale Coral Springs located at 620 N. University Drive, Coral Springs, Florida.Next training seminar will be held in Louisiana during July 2010. For registration forms and more information about the training seminars visit www.BESInstitute.org.
The protocol offered through BESI provides (to-date) the most comprehensive remediation process that was developed based on proven science; and nicknamed the "BESI System" because of the institute's endorsement. The protocol for remediation of defective drywall being offered by BESI considers the following major factors: corrosion, cross-contamination of other building materials, decontamination of personal belongings, IAQ program, a proposed national warranty (not an insurance policy), and removal of the stigma from having defective drywall.
It's good to know that if your home was remediated under this protocol that it would not require additional work in order to meet the latest CPSC/HUD interim guidance or to be aligned with the court's (MDL No. 2047) ruling. The Institute has a document that helps explain the protocol called, "The BESI System: Understanding the Protocols for Defective Drywall" which is posted on the institute's homepage.
The certification program offered through the Institute (BESI) instructs and trains licensed and approved state contractors in the remediation of defective or corrosive drywall. The institute will provide information on other available remediation methods during its training seminar; however, BESI certification is only being offered on the endorsed protocol since the other remediation methods do not require a high standard of training nor do they offer third-party quality control. The Building Envelope Science Institute has a "Nationwide Directory of Members" that currently allows individuals to locate BESI certified inspectors and remediators for defective drywall in their area and compare the services offered by these companies.
About BESI
Building Envelope Science Institute Inc. (BESI) is a specialized institute dedicated to the advancement of education, specifically designed for the construction industry. The mission Building Envelope Science Institute, Inc. (BESI) is to provide the highest quality of training, certification programs, and resources as well as over all knowledge in successfully constructing, maintaining, and restoring building envelope construction. Building Envelope Science Institute, Inc. (BESI) was created to be a leader and identify, develop and deliver the most effective and efficient training opportunities for the construction industry. Programs combine construction industry specific knowledge with applied techniques, bringing all the pieces of the building envelope science together into one cohesive unit with the highest levels of professionalism.
To learn more about the Institute or for conference details, go online to
www.BESInstitute.org
, or contact info@BESInstitute.org.
###