Automated Taxi Dispatch Service Integrates WorldNav Navigation
Taxi dispatch with automatic turn by turn navigation has been integrated by Little Services, Inc. using the TeleType WorldNav navigation application providing a turnkey solution for fleet owners wishing to streamline dispatch and navigation functions.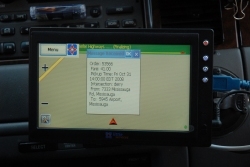 Boston, MA, April 29, 2010 --(
PR.com
)-- TeleType Company is pleased to announce the integration of its WorldNav navigation software in a taxi dispatch solution. Controlling costs and providing excellent service are paramount to taxi fleet service providers. Door-to-Door navigation is a vital component of providing taxi services. Software developer Little Services Gateway, Inc. has combined these functions into a commercially available product for use in the taxi industry. The company produces customized solutions incorporating business processes such as crew management, real time reporting, and vehicle tracking, with GPS navigation. Using the WorldNav software developer tools Little Services Gateway has successfully implemented its solution in Canada and the U.S.
TeleType offers software development kits for its WorldNav navigation software allowing developers full control over the integration of their specialized software solutions with navigation. The tools support Windows and Windows CE embedded devices. Developers have access to functions of the WorldNav navigation software allowing routes to be created, analyzed, and pushed directly to the device of choice.
For further product information contact TeleType Co. at 1-617-542-6220 or toll-free at 1-800-717-4478. Email contact@teletype.com. Little Services Gateway can be reached at 1-416-792-2104, mail@littleservices.com, www.logistrics.com.
About Little Services Gateway
Little Services Gateway Inc is a Canadian Corporation which offers a scheduling & dispatch solution called Logistrics. Logistrics is a proprietary solution serving the transportation sector with specific focus on Taxi Dispatch, Crew Management and Non-Emergency Medical segments. Its taxi dispatch solution is currently used by one of the largest airport transportation service providers in Canada. The Crew Solution is live with a large crew hauler in the U.S. Little Services is associated with leading telecom service providers both in Canada and U.S and has a number of industry partnerships.
About TeleType
Established in 1981, based in Boston, Massachusetts, TeleType has emerged to become a leader in the field of Global Positioning Systems. TeleType's award winning GPS solutions include support for embedded mobile devices and portable vehicle navigation.The company was first to offer a portable GPS solution for commercial truck drivers and continues to expand its commercial software line. TeleType specializes in software systems integration and innovative products for a variety of industries. Products range from consumer ready user-friendly GPS navigation systems to advanced developer tools such as Software Developer Kits (SDK) and mapping conversion tools allowing third party developers to take advantage of the WorldNav navigation engine.
###
Contact
TeleType Co.
Marleen Winer
617-542-6220 x120
www.teletype.com
1-800-717-4478

Contact