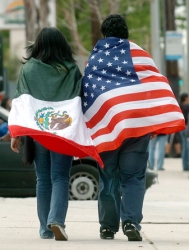 Phoenix, AZ, May 05, 2010 --(
PR.com
)-- What does it say when a white artist who was born in the Middle East is making a song on behalf of the Hispanic community? According to the some, it means this message of human rights has expanded well beyond the community that is being targeted. Apollo Poetry (MTV, ABC, Billboard Awards) felt a need to express his political message with a song that makes us question what borders actually are. The video montage that he put together was made to drive home a deep message on the current state of racism.
http://www.youtube.com/watch?v=jM0hOLIeLBY
It's 2010 and as much as it's covered up and not discussed, different groups of non-whites have been targeted over the past couple of decades. First, it was towards African-Americans. Then towards the Middle East. And now it's Hispanics. Why is it always non-whites that get targeted?
And that drives home another debate that's getting popular on the internet. What if the tea party was made up of all Hispanics? Or what if it was thousands of dark skinned men walking down the streets with guns?
Tim Wise nailed it on the head in his blog:
"Imagine that hundreds of black protesters were to descend upon Washington DC and Northern Virginia, just a few miles from the Capitol and White House, armed with AK-47s, assorted handguns, and ammunition. And imagine that some of these protesters —the black protesters — spoke of the need for political revolution, and possibly even armed conflict in the event that laws they didn't like were enforced by the government? Would these protester — these black protesters with guns — be seen as brave defenders of the Second Amendment, or would they be viewed by most whites as a danger to the republic? What if they were Arab-Americans? Because, after all, that's what happened recently when white gun enthusiasts descended upon the nation's capital, arms in hand, and verbally announced their readiness to make war on the country's political leaders if the need arose.
"Imagine that white members of Congress, while walking to work, were surrounded by thousands of angry black people, one of whom proceeded to spit on one of those congressmen for not voting the way the black demonstrators desired. Would the protesters be seen as merely patriotic Americans voicing their opinions, or as an angry, potentially violent, and even insurrectionary mob? After all, this is what white Tea Party protesters did recently in Washington."
Apollo goes on to say in his blog:
"Racism was socially acceptable not too long ago. People who were on the roof with Martin Luther King are still alive. Those events happened only a few decades ago.So were people being naive by thinking that racism has gone away? Of course it hasn't. Instead, we buried it inside of ourselves in order to be politically correct. But until we change the ideologies that are rooted deep inside of us from our ancestors flawed way of thinking, we can never expand into seeing each other as one race. The good thing is that our children are growing up more open minded than our parents. There are 1000's of human rights organizations popping up each year, and there truly is a worldwide movement of peace and global acceptance on the rise. However, we must be willing to stand up against injustices (in a peaceful way), to let the 'powers that be' know that their time is now done. They are no longer welcome in the new world that we are creating. A world that is based on love, global understanding, and worldwide peace."
Regardless on which side of the 'fence' a person stands, the song is gaining momentum around the world for its controversial approach.
Full posting at TravelingPoet.com
Contact: Hasmik Gushchyan
Email: info@travelingpoet.com
www.TravelingPoet.com
###