Two New Titles in Spring 2010 for Susan Wingate
Award-winning novelist, Susan Wingate adds two more books, in one season, to her publishing list.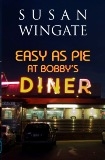 Phoenix, AZ, May 08, 2010 --(
PR.com
)-- With a high-profile web presence, Susan Wingate, has been stating since November 2009 now, that two of her novels will be released in tandem this May 2010.
As promised, the books are available everywhere!
A Falling Of Law (written under her pen name JJ Adams), a gritty noir mystery novel, was just released on May 6th. The publisher, Black Rose Writing, is a small press out of Castroville, Texas. BRW has an impressive catalog of not only fiction but nonfiction titles as well. BRW distributes its books in the U.S. through normal channels (Ingram, Baker & Taylor, NACSCORP, Rittenhouse, Amazon, Barnes & Noble; and in the United Kingdom through Bertrams, Gardners, Amazon and PubEasy.
Her second book, due out on May 15th, Easy As Pie At Bobby's Diner is the number two book in her popular "Bobby's Diner Series." Blue Star Books has been aggressive in its positioning for this 4-book series. They intend to re-publish book number 1 as a mass market paperback. Plus, they're taking EAP to the 2010 BookExpo America where Wingate will be signing books at the publisher's table.
When asked how busy she's been this first quarter of 2010, Wingate responded, "Holy Moly! Pretty busy, indeed. The year flew by. I think I missed the winter completely. But, you know, I have two beautiful books from all the commotion. Not bad. I'm very pleased with both titles and the publishers have been remarkable to work with."
Wingate sets off on her book tour to promote her latest titles this May 15th. She kicks off the tour in Phoenix, AZ where much of the setting takes place in EAP. She will be traveling to California, Oregon, Texas, Nevada and, of course, she will be hitting many different cities throughout her hometown state of Washington.
You can view Susan Wingate's Book Tour at either:
www.booktour.com/authors/susan_wingate, or
www.susanwingate.com.
###
Contact
Author Susan Wingate
Elizabeth Boyer
360 378-8760
www.susanwingate.com
PST 8a - 5p

Contact