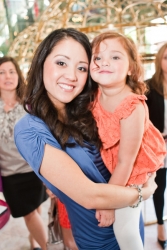 New York, NY, May 14, 2010 --(
PR.com
)-- French inspired children's clothing line Petit Confection made its debut on Tuesday, May 4 in New York City. "The Sweetest Thing," hosted by MAMAISTA and Cookies for Kids' Cancer™ charity and held at West Village eatery Sweetiepie, was a fabulous pre-Mother's Day event. Attended by mothers and children alike, including "The Real Housewives of New York City's" Alex McCord, "The Sweetest Thing" was an unforgettable occasion.
"The Sweetest Thing" included two adorable fashion shows filled with sweet tots wearing the new Petit Confection line. From colorful summer frocks to nautical sailor suits and preppy separates, this charming line showcased an array of styles perfectly suited for any little one. Attendees were particularly awed by the Swiss Dot Crochet Bohemian Dress and Yellow Chiffon Drop Waist Dress. They also fell in love with the Boys' Hand Knit Crown Romper and Denim Blouse & Plaid Bermudas. Some mentioned they would wear certain outfits themselves, as they admired the fresh and sophisticated style of Petit Confection.
In addition, guests enjoyed Sweetiepie's delicious tea party treats and took home generous gift bags which included items from Fantaisie Kids, GLAD, OXO, Tiny Prints, Bonnie Marcus Collection, Teleflora, Ecogear, Reisenthel, MomAgenda, Isabella Oliver, Mamatini, Milkmakers, Nourish Inc, Cupcake Kids, Dapple, Sweet Beauty, Bella Sposina, OPI, Wall Candy Arts, Fit2Bmom, and BloomPutty.
"The Sweetest Thing" was a huge success. It was such a fun way to celebrate mothers and children, and a great way to bring more awareness to Cookies for Kids Cancer™," said Olivia Anh-Chi Huynh, creator of Petit Confection. "I'm thrilled that my collection was received with such enthusiasm and excitement, and loved the opportunity to share it with so many wonderful women. I feel like my mission has been accomplished—to bring back classic kids styles with an edge, define casual chic in its truest sense, and give moms a reason to bond and give back."
Petit Confection will be available online beginning June 2010. The line will offer a unique retail approach and will be sold via home trunk shows. Mothers everywhere in the country will have the ability to view the products in person, earn hostess rewards, and donate to Cookies for Kids' Cancer™.
About Petit Confection
Petit Confection is the creation of fashion designer Olivia Huynh, who has been designing and serving as creative director in the children's market for the past four years. She helped her family-owned business become a leader in special occasions wear for infants and girls, and it's now sold at Lord & Taylor stores and better boutiques. With her newest venture, Olivia is utilizing both her design talents and passion for customer relations, as the line will be sold online and via trunk show parties, a new and fresh concept that she hopes will involve moms nationwide. In her ongoing efforts to make Petit Confection truly a lifestyle company, she will also introduce an online magazine that celebrates beautiful style, life, and love…For more information, visit www.petitconfection.com.
About MAMAISTA
MAMAISTA (the chic little daily for moms) is a free daily e-mail newsletter and website that delivers the coolest, most useful products and services for babies, tykes, tots and moms. The site was recently featured in Pregnancy magazine as a "must-see" destination for moms and ranked as one of the top mom websites by TheBump and Mashable. Elina Furman is the co-founder of Mamaista.com. A media vet with over 15 years of experience producing lifestyle content for women, she launched Mamaista to help moms filter through the myriad of products and resources online. For more information, visit www.mamaista.com.
About Cookies for Kids' Cancer™
Cookies for Kids' Cancer™ was founded by a mom inspired by her son's ongoing fight against cancer. Today pediatric cancer is the number one disease killer of children in the United States, due in large part to a lack of funding for research into new and improved therapies. Through the concept of local bake sales, Cookies for Kids' Cancer™ inspires individuals, organizations, and businesses to join in the fight against pediatric cancer by raising funds and awareness necessary to change the face of pediatric cancer and provide more families with the hope they deserve. For more information, visit www.cookiesforkidscancer.org.
###