TeenScreen Social Media Launch is Turning Heads & Making Friends
Columbia University's TeenScreen National Center for Mental Health Checkups launches new site and new integrated social media strategy to engage the medical, education, and patient communities.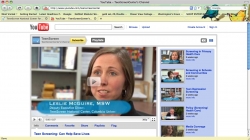 Washington, DC, May 14, 2010 --(
PR.com
)-- The
National Center for Mental Health Checkups
at Columbia University, also known as "TeenScreen," just launched their new website and social media strategy today. With the help of DC-based Washington Media Group, Inc., the new site takes their digital communication strategy social, with embedded video, a new blog, as well as Twitter, Facebook, and a YouTube channel integrated throughout. The new site makes the Center's vast resources more easily accessible through updated, intuitive navigation and also expands TeenScreen's national awareness and education campaign from schools into the broader medical and patient community.
"This is critically important," said Laurie Flynn, Executive Director of the Teen Screen National Center."Our vision is to make mental health checkups for adolescents as routine as eye exams in the doctor's office. Following the passage of the federal mental health parity law, mental health checkups for adolescents are now the standard of care."
"Mental illness and suicide are major public health problems in our adolescents today," says Leslie McGuire, MSW, Deputy Executive Director of the TeenScreen National Center in a new video that appears on the site just launched today. "Sadly, 80 percent of our teens are not identified and don't get the services they need."
The TeenScreen National Center for Mental Health Checkups at Columbia University is a non-profit public health initiative and national policy and resource center devoted to increasing youth access to regular mental health checkups.
Suicide is the third leading cause of death in 11 to 18 year-olds and 80 percent of teens who suffer from depression go untreated. That's why TeenScreen is now leveraging the power of social media to raise awareness and educate members of the medical and education communities.
"This is where the social media component is critical," said John Leary, a partner and EVP at Washington Media Group. "Through a narrowly focused online campaign to primary care physicians, pediatricians, psychiatrists, psychologists, nurse practitioners, and others, we are having incredible traction. In just under two weeks, over 1,800 of these individuals have elected to receive the newsfeed on the new TeenScreen Facebook page, and they're getting resources and help with providing this essential service to their patients and students."
About Washington Media Group: Washington Media Group blends the best traditional communication approaches with the most innovative use of online advocacy and advertising. Whether it's solving a crisis, enhancing reputations, preserving our clients' financial health, or winning in Washington, we bridge the "old media" and the surging capabilities of "new media" – with results our clients can count on. Reach us at www.WashingtonMedia.com
Washington Media Group, Inc. | 525 9th Street, NW | Suite 800 | Washington, DC 20004 | 202.628.1280 | www.WashingtonMedia.com
Press Contact: Mimi Carter
571-218-0951
###
Contact
Washington Media Group
Mimi Carter
571.218.0951
www.washingtonmedia.com
Twitter @mimicarter01

Contact