'American Idol' Comic Talent Norman Gentle 'Slaps' Debut Single Toward Critical Mass: "Bitch Slap" Released by Young Pals Records International
Music Video Released to Multiple Outlets, Media Mayhem, Radio Airplay Launches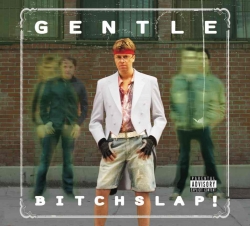 New York, NY, May 25, 2010 --(
PR.com
)-- Gentle graciously steps forward with his debut single, to "Slap" some gusto into the American Idol franchise's dusty reputation. Already, the May 4 release of his family-friendly "Brit Slap!" a farewell roast to outgoing "Idol" judge Simon Cowell, has fostered a tidal wave of national press coverage from The Los Angeles Times, Yahoo! Music, USA Today, NPR, New York Daily News, MTV, Life.com, CBS News, The Fox Morning Show and the syndicated Wendy Williams Show—where Gentle served as a weekly correspondent throughout Season 9 of "AI."
The song's grown-up sister, "Bitch Slap!" a parallel version of the sing-along anthem, featuring a maddeningly catchy chorus and throbbing beat, was released to radio, iTunes and amazon.com May 18. It has garnered initial airplay on top 40 powerhouse WEBZ (B97)/New Orleans.
Both "Slaps" are accompanied by a gleeful music video, which premiered online Friday, May 21, via Yahoo! Music's acclaimed "Reality Rocks" column, penned by Yahoo! Music managing editor Lyndsey Parker. The popular Votefortheworst.com blog launched it in the blog space the same day, while Fox News was given first rights for national television exposure.
The clip features a cameo from "America's Top Model" judge Nigel Barker, a cast of Broadway dancers and Cowell himself—as a stand-up cardboard cutout—which literally stopped traffic in Manhattan's Times Square when lensed last month, as thousands of passers-by joined in the tribute. The video will also launch on votefortheworst.com, Monday, May 24, and is streaming on YouTube.
Norman Gentle's headband-wearing, tuxedo jacket-sporting, khaki shorts-donning character has made the comedian a hero among Idol worshippers. Last year, when Norman, a.k.a. 27-year-old Nick Mitchell from Brookfield, Conn., ambushed the No. 1 TV show in North America, his slapstick persona delivered unexpected vocal finesse, via a memorable performance of "And I'm Telling You I'm Not Going" from "Dreamgirls."
While anxiously counting down his 15 minutes of fame, the mainstream media embraced Gentle as a bona fide talent. He was snapped up earlier this year by production duo DNA—Dennis DelGaudio and Ayhan Sahin—to record first single "Bitch Slap!"—which, with the announcement of Cowell's departure from "American Idol," was parlayed into the saucy send-off "Brit Slap!"
Now signed to DNA's Young Pals Records International, Gentle has evolved his image into the "Gentle band," taking off on "Idol" finalist Chris Daughtry's now-ubiquitous group Daughtry, featuring players DelGaudio, a world-class guitarist who has toured with Billy Joel, written songs for indie films and served as Musical Director for Broadway's "Movin' Out"; and Sahin, who has written and produced musical stage shows in his native Turkey that have been performed in 18 countries.
Gentle's web site gentleofficial.com, offers daily updates about his whereabouts, opinions on "American Idol," tips for living "Gentle-y," and his steadfast support for animal rights, alongside other rants and raves about pop culture. To hear an excerpt of "Brit Slap!" please access www.gentleofficial.com.
Contact: Ghia
Telephone: 617-997 6554
Email: hydrangea4563@vzw.blackberry.net, gggarth83@hotmail.com
Web Links:
www.gentleofficial.com, www.youngpalsrecords.com
###
Contact
Young Pals Records International
Ghia Gabriela Szwed
617-997 6554
gentleofficial.com
Young Pals Records International is a full service record label offering production, recording, songwriting and consulting for artists and musicians. Web Site: youngpalsrecords.com

Contact