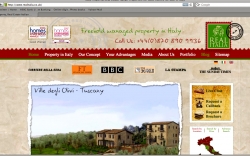 London, United Kingdom, June 02, 2010 --(
PR.com
)-- Realitalia is proud to announce the launch of a brand new and comprehensive web site to give a new look and feel in line with the company's corporate identity. It offers regular, updated news, an exhaustive selection of Realitalia property in Italy and a full range of interactive features.
The essence of the new web site is to highlight the Realitalia concept and in particular the section Your Advantages, where it explains, with clarity, why a Realitalia home in Italy makes a real difference to owners.
It explains in particular how the Realitalia Management System operates, about the Professional Management and promotion of the letting, the Design Options, the Furniture Packages and the Company's commitment to eco- aspects etc.
"We have taken several months to convey these concepts effectively," says Luca Catalano, Director at Realitalia. "We like to think of the web site
http://www.realitalia.co.uk
, as a supreme combination of a highly technical and easy to browse marketing tool combined with a quality magazine, a flawless blend of two perfect media styles."
Luca explains:
"Our new Home Page delivers a more straight forward message about Realitalia and gives the opportunity to obtain immediate information about promotional offers
"'Your Advantages' is probably the most important section. It explains compressively why the Realitalia homes are different, what are the actual advantages to Realitalia owners.
"The Blog is a way to communicate the topics that drive our work from the design to the realization. Shortly it will include tips on buying a property in Italy.
"The Media Section clearly highlights the articles about our Italian Homes.
"The effective Search function (Advanced Search), allows users to highlight the really important aspects of these homes from architectural features to distance from nearest village. This gives people more transparency.
"The Portfolio Section contains a selection of our projects; most of them are Furniture Packages or have contributed to develop the Furniture Package concept as well as the Design Option concept.
"The Property Sections bring more straight forward information. For example from the Site plan you will be able to go directly to the property you are interested in by clicking to its position in the master plan."
"On Realitlia's web-site one can find a number of projects, for example Ville degli Olivi which is a chic, boutique development of just eight apartments. It is a place to relax, meet convivial neighbors and enjoy a staggering beautiful location in a home where much love and attention has been given to create a truly exquisite pied de terre."
The village of Lajatico is a combination of pretty squares, quaint cobbled streets and ancient buildings with a choice of shops, restaurants and hostelries. It is a safe and gently environment surrounded by sweeping open countryside.
There are many delightful villages to discover within a few minutes drive by car and the Tuscan sea is just 30 minutes drive. Florence, Lucca, Siena and many others are within easy reach as is Pisa and the International airport.
Editor's Notes
Realitalia creates Homes for the Joy of Living – homes with vision.
We create the home you've always dreamt of, shaped around your own individual needs and tastes.
Realitalia's vision blends tradition with technology, respect for local society with respect for the environment and on-site service with low maintenance costs. We combine enjoyment with return on investment, privacy with company when you want it and stunning surroundings with relaxation and well-being.
Our homes are for those who love Italy with a passion. They are for you.
###