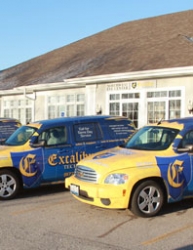 Barrington, IL, June 02, 2010 --(
PR.com
)-- Scott Cummings, founder and President of Excalibur Technology formally announced the grand opening of the Miami, FL franchise office.
Cummings stated, "This is our second Florida location and two more will be opening before August 2010. Our franchise program has really taken off because our owners see the potential of our business model, allowing them to bring much needed support to small and midsize businesses. We are the only nationwide franchise company to offer a complete set of business technology solutions including network support, website design, programming and data center services."
As our economy continues to struggle, Excalibur Technology continues to help business owners reduce their technology costs and increase their productivity. They are business consultants and certified engineers – not just computer repair "geeks." Also, all of their work and support is performed by staff members in the USA – they never outsource.
The Miami, FL office is headed by owner Hector Fernandez, a 24 year Information Technology (IT) veteran with extensive experience in business consulting. He has worked for numerous global IT giants including Accenture, KPMG and IBM. Hector's technology background includes experience in all areas of IT. Regarding the Excalibur Technology opportunity Hector states, "I am thrilled to be able to provide the best technological services to the Miami area. With over 16 years of experience, Excalibur Technology has documented best practices on many IT solutions for the small and medium size business community. This coupled with the extensive knowledge of our certified staff and my vast IT experience will make us the premier technology partner in Miami."
Miami, FL Contact Info:
Local Phone Number: (305) 704-7799
Toll Free Number: (877) NET-KING
Address: 2600 Douglas Rd., PH6
Miami, FL 33134
E-mail: hfernandez@excaltech.com
Web:
http://miami.excaltech.com
Additional information about the franchise offering can be found at the Excalibur Technology Franchise website:
http://franchise.excaltech.com
Additional general information can be found at the Excalibur Technology website:
http://www.excaltech.com
###