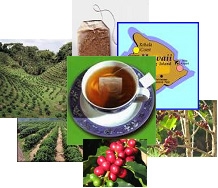 Roxbury, CT, June 03, 2010 --(
PR.com
)-- Innovance LLC has launched New Kona Coffee Cherry Herbal Tea, The company indicates that it adds a unique new fruity cherry herbal aroma and taste option to the tea market.
Innovance indicates that it is rich in antioxidants. Columbia Phyto Technology, LLC test results prove that its ORAC value is twice that of Green Tea.
According to studies of animals and human blood at the Agricultural Research Service's Human Nutrition Research Center on Aging at Tufts in Boston high ORAC foods possess the power to slow down or prevent detrimental changes to the body and brain caused by aging and illness.
They indicate that Coffee Fruit has an extraordinary high level of polyphenols (anti-oxidants) with protective benefits to help consumers prevent disease, resist sun damage and delay aging (by neutralizing free radicals).
In studies funded by Revale Skincare, clinical tests of the first skin care products utilizing coffee cherry extracts cited 46% improvement in fine lines and 64% improvement in skin smoothness.
Stemedicaca Cell Technologies, Inc patent states that compositions derived from coffee cherry have a therapeutic benefit in the treatment of diabetes and diabetes related disorders.
To create their New Kona Coffee Cherry Herbal Tea, Innovance utilizes the Coffee Tree Fruit and separates it from the coffee beans inside. Their natural process enables them to capture all the special aroma, flavor, and healthful benefits of the Kona Coffee Cherries. They say it is suitable for iced or hot herbal tea beverages.
Since coffee cherries have traditionally been discarded, Innovance's new Kona Coffee Cherry Herbal Tea is good for the environment. They call it a value added renewable sustainable beverage.
Innovance says that this delicious healthful new herbal tea will soon be available throughout the USA.
###