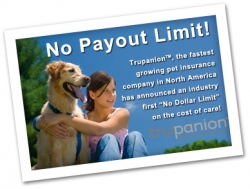 Seattle, WA, June 15, 2010 --(
PR.com
)-- Trupanion™, the fastest growing
pet insurance
company in North America, has announced a "No Dollar Limit" provision for their policy, an industry first. All pet insurance companies, other than Trupanion™, offer policies with various limits on what will be paid in benefits per incident, year, or lifetime.
"For pet owners, the complexities of the fine print makes comparing products difficult and determining the value even more challenging. This change to no dollar limit makes our policy easy to understand while also creating an industry best value for the pet owner," says Darryl Rawlings, Founder and CEO.
Limits are one way that pet insurance companies protect themselves from large benefit payouts and the potential of an expanding cost of claims. Many times, caps in benefit payments are not thoroughly understood and can place a company in an adversarial position with the policyholder. By removing the cap, Trupanion™ streamlines their policy and can focus more resources on service.
Craig Wallace, Senior Vice President of Sales and Marketing said, "Based on our market research, 90% of pet owners are aware pet insurance exists, they just have not heard a compelling message to purchase. Our 'no dollar limit' provision realigns the value scale and places us in a unique position to be an advocate for the pet owner rather than an adversary."
Trupanion™ is the only pet insurance provider in the United States and Canada that offers no caps on benefits, 90% coverage (less optional deductible and exam fee) and one simple plan. Along with these benefits, pet owners can select any deductible from 0 to 1,000 dollars in 5 dollar increments. A higher deductible reflects a lower monthly premium. By paying slightly higher monthly premiums and choosing a low deductible, pet owners are responsible for a smaller overall portion of their veterinary bills.
About Trupanion™
Trupanion™ pet insurance offers cat insurance and
dog insurance
in the United States and Canada. Trupanion™ is self-underwritten by the American Pet Insurance Company, allowing Trupanion™ to offer a customizable pet insurance policy with no benefit schedules. Enrolled pets receive lifetime coverage for diagnostic tests, surgeries, and medications if they get sick or are injured, with no incident, annual or lifetime limit. Trupanion's mission is to protect the cherished bond between pets and their families by ensuring that pets are able to receive optimal veterinary care. For more information about Trupanion™, call 800-569-7913 or visit http://www.TrupanionPetInsurance.com
About the North American Pet Health Insurance Association
Trupanion™ is a founding member of the North American Pet Health Insurance Association (NAPHIA). Founded in 2007, the North American Pet Health Insurance Association is committed to educating and promoting the values and benefits of quality pet health insurance to North American pet owners, the general public, and the veterinary community. As an association, we are committed to high standards and transparency in all of our actions and products. To learn more, visit the North American Pet Health Insurance Association website at http://www.naphia.org
###