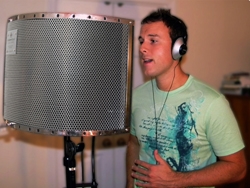 New York, NY, June 18, 2010 --(
PR.com
)-- Introducing J Rice - Editors Keys meet with J Rice to discuss the music industry, his upcoming material and the new Editors Keys products.
Its not very often a true talent rises from the shadows, but one guy who's defiantly heading straight to the top is 'J Rice.'
J Rice's sound, mixes soulful vocals with uptempo R&B beats to produce some of the most original R&B tracks to hit the scene. J Rice grew up in Washington, United States and it's there that his love for singing started, however a recent move to New York is taking J Rice on an exciting, major step towards his future.
In England, some hugely popular acts such as the Arctic Monkeys have 'made it' by using social networking sites alone. J Rice is taking this to the next level using YouTube as a means of singing to his fans. With over 1.7 Million views on his channel, 2 Million plays on SoundClick and over 21,000 subscribers J Rice is already a big hit.
Editors Keys has just launched the new Editors Keys Portable Vocal Booth, and J Rice was one of the first in the world to test it.
"I don't have a separate vocal booth/area, so when I record vocals, I get the sound of the computer fan, the A/C kicking on sometimes, and a lot of other ambient noises. I noticed immediately the sound got clearer when I was using it. It's really difficult to record songs, that have a more intimate sound, because the quieter you're singing the louder everything around you is, so it's been great for that. I'd say if you're serious about making your vocals sound the best they can, and you're on a budget, Get It!" Says J Rice.
The new Editors Keys Portable Vocal Booth starts at just 99 pounds Sterling / $150 and transforms any microphone stand into a vocal booth, greatly improving the acoustics within your room and the overall quality of the vocals you can produce.
The new Portable Vocal Booth is available on its own, or as a studio bundle with the SL150 USB Studio Microphone, vocal booth and pop filter.
J Rice has been working with Phantom Boyz (the production team behind Leona Lewis and Alexandra Burke) and is currently working on his new album. His new single 'Afraid of Love' is available now on iTunes.
To read more and see the videos check out:
www.editorskeys.com
###